News From Hillsboro High School PTSO: 7/29/18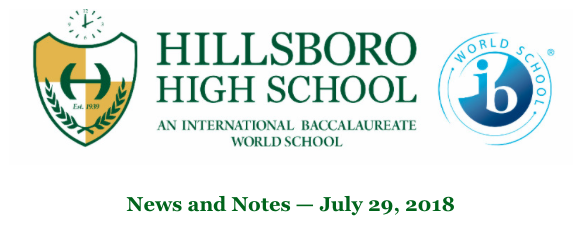 Hang on for a minute...we're trying to find some more stories you might like.
Orientation Information

All members of the Class of 2022 and their families are encouraged to attend Burro Beginnings, Hillsboro's ninth grade orientation, on Tuesday, July 31. 
Coffee and light refreshments will be served in the lobby starting at 9:30 a.m. Presentations and tours for students and parents will begin at 9:45 in the auditorium. MNPS will be running buses for this event; for route information, call 615.259.INFO (4636) or email [email protected].
If arriving by car, park in the temporary lot in front of the school or in any available spot alongside the south side of the building. We can't wait to meet our newest Burros!
What if you can't make it on Tuesday or have a new 10th, 11th, or 12th grader? On Friday, August 3, there will be two opportunities for families to tour the campus and ask questions—one at 8 a.m. and the other at 4 p.m. Please RSVP to [email protected] if you would like to attend.
Teacher Appreciation—Donations Needed!
To show our teachers some back-to-school love, the PTSO will be serving breakfast to them on Friday, August 3. We are also collecting school supplies to give teachers a head start on what they need this year. Click the link HERE to sign up to donate items to our hard-working and dedicated teachers and staff. In particular, we still need lots of travel size Clorox wipes and hand sanitizer (like you find in the travel section of Target), small boxes of tissue, and dry erase markers. We are asking that people bring in 10 each of these items to try and get to 100 of each. Items can be dropped off any time before Thursday, August 2, in the marked bin in the main office. Thank you for your support!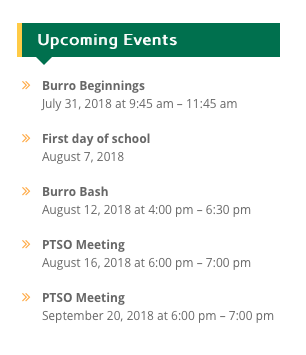 Your Back-to-School Questions Answered
Check out the dedicated back-to-school answers page on the PTSO website. Still have questions? Email us at [email protected] and we will do our best to get answers for you!
Interested in Cheerleading?
The HHS cheerleading program is restructuring with new leadership. As a result, there will be supplemental tryouts August 8-10 from 2:30 to 5:30 p.m. in the cheer room. There will also be an important informational meeting at 6 p.m. on Friday, August 3. All parents and student-athletes who are interested in cheerleading at Hillsboro should attend.
Want to Get Involved This Year?
The PTSO is looking for lots of volunteers to help with various needs this year. Below are a couple roles we would love to fill before school starts. Please take a look and email [email protected] if you are interested.
Clubs Liaison/Bulletin Board–This person is responsible for gathering information on the various clubs and extracurricular student groups (teacher sponsor, meeting date/place/time, description of the group) and posting the information on upcoming events and happenings on a central bulletin board at the school and on a page on the PTSO website, wearehillsboro.com.
Amazon Smile/Rebates and Restaurant Nights—Members of this committee are responsible for organizing fundraising events at local restaurants, advertising store rebate programs, and researching similar fundraising opportunities.
Calendar—Members of this committee are responsible for helping to gather information regarding all events in the school and entering into a school-wide online calendar. Examples of events to track: school events, athletic events, PTSO events, etc.