Burro Beginnings marks a new era of traditions for a Burro Nation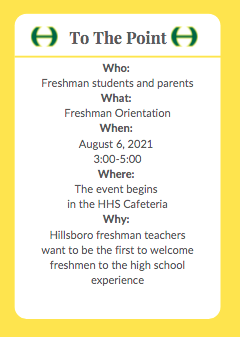 There are two sweet spot moments in the life of a high school the first is welcoming new ninth-grade students to your campus and the second is wishing them well as each crosses the graduation stage. These two events bookend a myriad of memories.
Burro Beginnings, a recently introduced event in the Hillsboro High School, marks the first official event of the 2021-2022 school year. Planners of the event have worked especially hard to make this event a memorable one for the rising freshmen.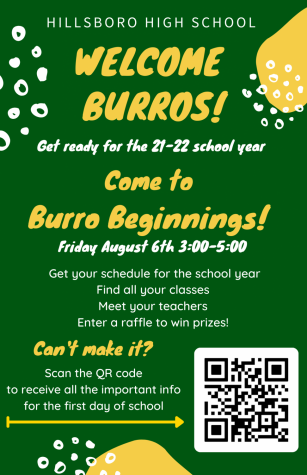 For many, this will be the first foray back into an actual school building since March of 2020. Games, a meet and greet with teachers along with food and music are planned to welcome both students and their parents to Hillsboro's beautiful new building.
Students will first pick up that ever-important schedule as they enter the cafeteria located on Burro Boulevard. The entrance to the boulevard is on Glen Echo Road, across from the Green Hills Post Office.
Ninth-grade students and their parents should plan to arrive by 3:00 pm to participate in the scavenger hunt that will enable students to get the inside scoop on where all the new facilities are located and once the hunt is fully completed, students will be entered into a drawing for a special prize.
From 4:15 to 4:45, students return to the cafeteria and parents will head to the auditorium to learn more about expectations and opportunities for students. Students will have a chance to meet and chat with their teachers. Parents will participate in a Questions and Answer panel giving them a chance to ask important questions regarding school policies.
Following the presentions, everyone will gather back on the Burro Boulevard Quad for food and fun closing out the 2021 Burro Beginnings event.
Being apprehensive about one's first year in high school is normal and anticipated, but to head back to school during a continuing pandemic just adds to the uncertainty. The Burro Nation of teachers, staff, and administration want every student, new or not, to remember they have spent the summer planning for the return of students in person. The Burro Nation has its eye on the real ultimate prize–graduation.