2018 opens averaging a school shooting that leads to injury every three days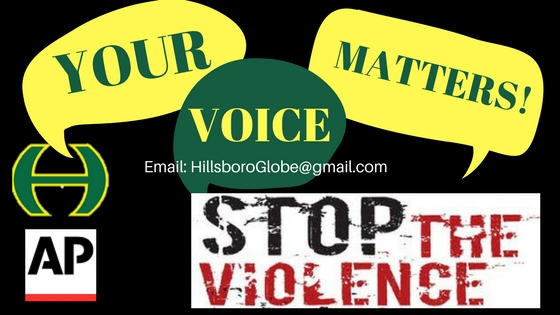 "
"Our district is in a tremendous state of grief and sorrow," said Robert Runcie, superintendent of the school district in Parkland, about an hour's drive north of Miami. "It is a horrible day for us.""
The school shooting Wednesday, February 14, 2018 at Marjory Stonemason Douglas High School marks the country's 18th school shooting of 2018, just 45 days into the year. It is the 13th shooting that involved multiple injuries, and the 9th that results in at least one death on a school campus.
The Hillsboro Globe mourns for those in every state on every campus at the loss of those who are just as us. Though not a "school shooting" gun violence has taken one of our own, through a stupid mistaken moment that took our classmate, Javonte, in a home invasion.
And just this past Friday, Pearl Cohn High School went on lockdown when an active shooter shot and injured a student on the edge of the school grounds, and but for a few feet, this moment too, would have joined the statistics of 2018 regarding school shootings. The young man shot was just 14 years old.
The editorial desk of the the Hillsboro Globe will be publishing our classmates suggestions, our teachers innovative ideas, our administrations assurances with detail over the upcoming weeks. We will be exploring what the youth of Nashville think are the solutions.
As a staff we agreed to use the following data sources for the articles we are publishing as these sources were determined to be the least partisan and most consistent sources for comparable data sources.
2003 – 2015
Analysis of data from the Centers for Disease Control (CDC) and Prevention,
National Center for Health Statistics.
Population Reference Bureau
 National Center for Health Statistics
Multiple Causes of Death Public Use Files for 2003-2015
What we know today as a staff is that the answers to school shootings and violence don't lie with politicians alone. The most comprehensive reforms for school gun violence came after the tragedy at Columbine High School without any national mandates. School systems and local states acted swiftly without waiting for laws to be passed.
Teens are the most informed voices on this issue, and we your newspaper welcome you commentary, suggestions, questions and thoughts. We want to assure our student body, if you present a serious suggestion or have a thoughtful question, we will take it to the appropriate school administrators.
We are the solution.
The Hillsboro Globe Editorial Staff