'People just ran': Students fled for lives in fatal school shooting at Marshall Co. High School in Benton, KY
Hang on for a minute...we're trying to find some more stories you might like.
BENTON, Ky. (AP) — They ran silently, too stunned to shout.
Some of the children ran into classrooms to hide from the boy with the gun. Some ran out of the building, into the fields, across the streets, through the doors of nearby businesses.
"No one screamed," said 16-year-old Alexandria Caporali, recounting the moment her high school became the site of the latest American mass shooting. "It was almost completely silent as people just ran."
Bailey Nicole Holt and Preston Ryan Cope, both 15, were killed and another 17 people injured when a classmate opened fire Tuesday morning in the school's busy atrium, a common area in the center of Marshall County High School, where several hallways meet and children gather before classes.
Vanderbilt Hospital Trauma ICU made a statement just a few hours after the injured arrived via Life Flight helicopters. Oscar Guillamondegui, medical director of Vanderbilt's trauma ICU stated
"Obviously, it's not something that you look forward to," he says. "But I think every Level I trauma center should be really prepared to do this kind of thing. The five teenagers arrived on the helipad in separate choppers, according to hospital officials. Vanderbilt has trained to handle many more, if needed,"
However, this is the first time that the Trauma ICU has had to handle a school shooting.
Vanderbilt director of VUMC's trauma center, Rick Miller stated that the hospital  has had a trauma center for "30 years, but this is the first time we've dealt with a mass casualty event from a school shooting….We have to cut our emotions off when we're trying to save somebody's life."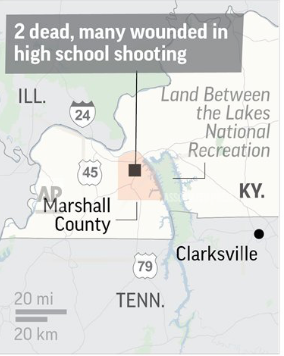 Rural America not immune to teen shootings
The trauma consumed the rural town of about 4,300 people, where nearly everyone has a connection to the school. Parents left cars on both sides of an adjacent road, desperately trying to find their teenagers; business owners pulled fleeing children to safety; a state trooper rushed to the school, terrified he would find his own daughter among the dead.
Kentucky State Police Commissioner Rick Sanders said authorities would not yet identify the 15-year-old, now in police custody, who he said walked into the school armed with a pistol just before 8 a.m. and immediately started firing.
Caporali was eating breakfast when she heard a shot, turned and saw the teenager with the gun. She knew him as a quiet boy who played music and always seemed happy. After the first shot, he seemed to hesitate.
In the same room, two 16 year olds, Lexie Waymon and Baleigh Culp, had been laughing and talking about makeup and the homecoming basketball game like ordinary teenagers on an ordinary morning. They heard a bang, and imagined something equally ordinary, like a heavy book hitting the floor.
"That's what I expected it to be," Culp said. "Until I saw a body drop on the ground and the bangs continued. There was bullets flying everywhere."
Fear momentarily seized Waymon.
"I couldn't move. I got up and tried to run, but I fell. I heard someone hit the ground. It was so close to me," she said. She froze, she said. She could see only blackness — for a full minute, she guesses. Then she came to and ran.
Waymon did not stop running, even though her chest hurt. One phrase ran on repeat through her mind: "I can't believe this is happening. I cannot believe this is happening." She didn't stop until she made it to a McDonald's, more than a mile (1.6 kilometers) from the school.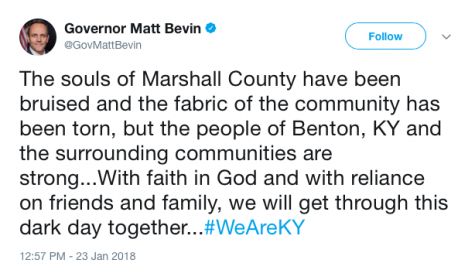 Culp was running, too. She ran to the highway, hearing shot after shot behind her. She kept running, unsure what to do, when a man reached out from the door of a business and pulled her to safety inside, where dozens of other students were hiding.
"They was running and crying and screaming," said Mitchell Garland, who owns the cleaning company where the girl took refuge. He estimated between 50 and 100 students who ran from the school huddled there, including his own 16-year-old son.
"Everyone is just scared. Just terrified for their kids," Garland said.
Inside the school, the boy kept firing, said Caporali, who ran into a classroom.
"It was one right after another — bang, bang, bang, bang, bang," she said.
He kept shooting until he ran out of ammunition, she said. Then he took off running, trying to get away. He was soon apprehended by police and led away in handcuffs.
But by then, 14 had been shot and five others were injured as they ran from the gunfire. Bailey died at the scene and Preston died after being taken to Vanderbilt University Medical Center in Nashville, Tennessee. Five others remained in critical condition late Tuesday.
The case against the suspect will begin in juvenile court, which is closed to the public and the records sealed under Kentucky law. Prosecutors will request a judge move it to adult court, at which point the details will no longer be secret.
The teen is being held at a regional juvenile jail in Paducah, Kentucky, about a half-hour away, authorities said, and he has been appointed an attorney.
Word of the shooting spread quickly around town, and people rushed toward the school.
Marshall County Attorney Jeff Edwards heard the news from a friend and immediately drove to the building. He and his wife both graduated from the school, as did their children.
He saw children running in every direction and said his heart broke for the ordeal he knows they must endure.
He took office in 1997, the year a student opened fire in a school 30 minutes away in Paducah, Kentucky, killing three and injuring five. It was two years before the fatal attack at Columbine High School in Colorado, before mass school shootings became all too common, and it left scars across the state.
"This is something that they will never forget," he said of children who ran for their lives. "It will be with them forever."
___
Associated Press contributors include Adam Beam and Bruce Schreiner in Frankfort, Kentucky; Claire Galofaro and Rebecca Yonker in Louisville, Kentucky; Stephen Lance Dennee in Benton, Kentucky; Jonathan Mattise in Nashville, Tennessee; and Michael Warren and Lisa Marie Pane in Atlanta.