Nashville Traditions: Santa's Trees Lot, since 1970, has been a Christmas tradition for generations
Nashville Traditions is an ongoing column that celebrates those activities in and around Nashville that have become iconic to the It City
Hang on for a minute...we're trying to find some more stories you might like.
"Santa's Trees " is the name of the tree lot that is in front of Hillsboro High School. The man that runs the tree lot is Jim Mc Cloud. According to Jim Mc Cloud, the tree lot in front of Hillsboro high school is a "Green Hills Tradition." He said, "This tree lot has been set up in front of Hillsboro every year since the late 1970's."
This company gets their trees in by a semi-truck once a week until right before Christmas. A security woman comes every night not only to protect the yard, but to water the trees and clean up. Santa's Trees is open from now until Dec 25, 2017. Their hours are: Sunday through Saturday (7 days a week) 9:00AM to 9:00PM.
Its the holiday season and Hillsboro is selling Christmas trees! A week before Thanksgiving, the Christmas tree lot set up in the front of the school.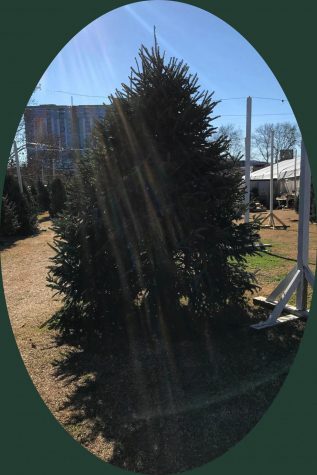 They are selling trees starting at 35 dollars and up depending on the kind of tree and the size.
They also sell wreaths, red bows, and garlands.
Customers often ask how they will get a large tree home if they don't drive a truck. The Christmas Tree Lot has that covered.  They have a delivery service with for a small additional fee.
They will continue to sell trees and wreaths up until Christmas Day or until everything has been sold.
After a customer gets a tree home, taking care of it in s special was is  crucial to the tree lasting for several weeks.
First it is key not to place the tree under or over any kind of heating vent system. This could cause it to overheat and die
Next, don't keep it too close to close to a window either. This can cause your tree to wilt due to the cold temperatures.
Finally, you have to keep the water fresh. Water is necessary for the tree to remain fresh and to preserve it as much as possible. Think of it like a large bouquet of flowers.
Here are some of the things they offer:
Items Price range
Trees $35.00 to $700
Wreaths $20.00 to $160
Garland $3.00 -$7.00 per ft.
$75.00 to $175.00 bulk
Décor (Arrangements $10.00 to $100.00
Bows $4.00 to $15.00