Hillsboro High School International Baccalaureate Diploma Program inducts new recipients
Hang on for a minute...we're trying to find some more stories you might like.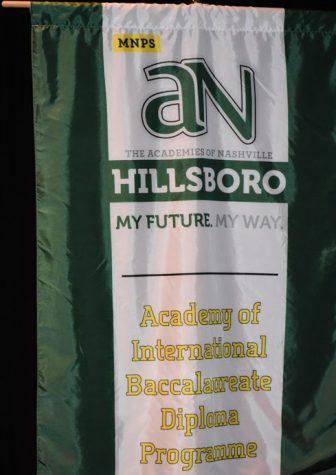 Thursday September, 21, 2017,  Hillsboro High School inducted its newest group of International Baccalaureate Diploma Program recipients. This event held every year hosted community members, parents and students to show support for the students as they walked across the stage and take on the next chapters of their lives. Dr. Missy Humphrey and Mr. Will Butler are the lead teachers for Hillsboro High School's International Baccalaureate Diploma Program and helped organize the Induction Ceremony.
Students walked across the stage as they were handed their yearly IB t-shirt which said "Hillsboro Proud".  " Not only are we Hillsboro Proud, But we are IB proud as well!"said Will Butler. IBDP is one of the Nashville of Academy offerings along with the Academy of Global Health and Sciences and  the International Business and Marketing Academy.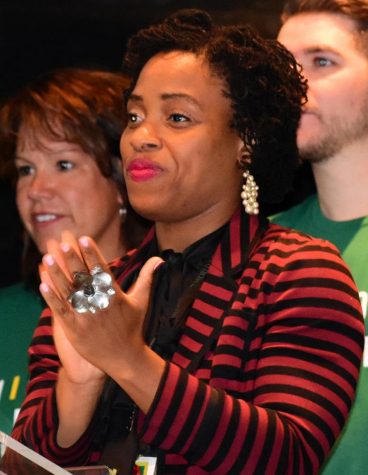 Hillsboro High School enjoys celebrating its students in these types of ceremonies.It is one way Hillsboro provide students a public appreciation moment letting them know they loved and wanted.
It's ceremonies like these that make students "Proud to be a Burro!" This is what Joe Korshoff, a senior in the IB program, stated. Students in this program are challenged on a  daily basis and are expected to perform at their highest abilities.
Students and staff work hard to make sure everyone graduates with an IB Diploma. 
Candidates for the Diploma include:
Gina Abdalla, Justin Adams, Mason Burbridge, Lesly Shaver, Sarah Chesire, Brianna Crockett, Michael Davis, Cameron Dickens, Faith Dixon, Avery Frierson, Nethan Garvey, Sydney Gleaves, Alexus Hamer, Happy Haugen, Javari Henderson, Shedrick Hendrix, Callie High, Keniia Hunter, Alexis Jemison, Autumn Jemison, Abbey Jernigan, Fatima Laghari, Alia Logoleo, Ethan Maldonado, MacKenzie McLean, Morgan Mitchell, Jayden Moody, Bashar Nasir, Ese Ovolo, Jacob Reiss, Isabella Robinson, Said Warsame, Lana Sankari, Aniya Senter, Zoe Spain, Jacob Tallman, Rodney Thweatt, TJ Torrence, Emma Weaver, Kailey Williams, Alyssa Wood,
IB DP and CP Seniors: Jamison Abram, Shira Acklin, Benjamin Aeberle, Ryah Al-Humrani, Zoe Armstrong, Elaine Ball, Jacob Bell, Anna Birdwell, Nevin Bulut, Zyshonn Burleson, Anna Butler, Harry Brunson, Janiah Carey, Jared Clemons, Duncan Corbin, Sarah Cory, Molly Dean, Emily Dick, Jacob Dodson, Jevon Donaldson, Maxwell Dunn, Eghosa Eguakun, Linnea Engstrom, Marnie Fazzola, Skylar Fischer, Sloan Fischer, Eli German, Isaac Gilliam, Sidney Gillis, Jeffrey Grissom, John Harris, Jackson Hasty, Kennadi Hawkins, Horacio Jimenez, William Keathley, Rhett Kohler, Amanada Lambert, Mia Lawrence, Camden Lee, Donald Lescher, Thomas Link, Aryelle Lipscomb, Obang Lwang Mianga, Jacon Mendez, Morgan Menifee, Arcadia Moncreif, Hayden Moore, Katherine Morgan, Brian Moth, Jackson Oswald, Sarah Ottinger, Bhavin Patel, Camille Perry, Savannah Porteous, De'Andre Ray, Lilly Sharpe, Abigail Sheridan, Willie Sinkfield, Adler Smith, Sylvie Stephenson, Rojhat Tayip, Catherine Toledo Martinez, Brennan Wade, Joshua West, Jasmine Williams, Ellen Williams, Lily Worden, Wesley Working,
About the Writer
Angel Powell, Assistant Photo Editor
Hello, My name is Angelina Marie Powell but everyone calls me Angel! I'm a student at Hillsboro High School, and just recently started my own photography...