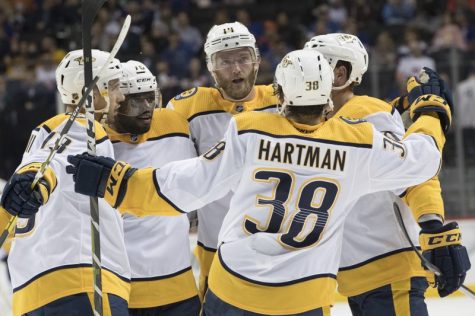 Hillsboro Globe Reporter – Teresa Walker, AP Sports Writer

October 9, 2018
Click here for game highlights NEW YORK (AP) — Viktor Arvidsson and the Nashville Predators are happy to be headed home after sweeping a season-opening trip to New York. Arvidsson scored twice and the reigning Presidents' Trophy-winning Predators held on for a 4-3 victory Saturday night, spoiling the Islanders' home opener. ...
Hillsboro Globe Reporter – Ben Martin, Reporter

April 10, 2018
NASHVILLE, Tenn. — The Nashville Predators presented the President's Trophy to the largest sold out crowd in the history of the Bridgestone Arena, wrapping up a regular season of play that is symbolically setting up a play-off season of high expectations. The franchise's first Presidents' Trophy...