Arvidsson scores 2 as Predators hold off Islanders 4-3
Click here for game highlights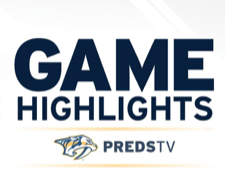 NEW YORK (AP) — Viktor Arvidsson and the Nashville Predators are happy to be headed home after sweeping a season-opening trip to New York.
Arvidsson scored twice and the reigning Presidents' Trophy-winning Predators held on for a 4-3
victory Saturday night, spoiling the Islanders' home opener.
"We got what we came here for and a great start for the season," Arvidsson said. "Excited for the home opener (against Calgary on Tuesday night), come home to Nashville and play for our fans."
Mattias Ekholm and Craig Smith also scored, and P.K. Subban had two assists for the Predators, who beat the Rangers 3-2 at Madison Square Garden in the season-opener Thursday night.
"
"We did a great job coming off that first win. t's never easy on a home opener and we had to face two of them so it's good to get out here with the four points and go home.""
— Nashville Head Coach, Peter Laviolette
"We did a great job coming off that first win," Nashville coach Peter Laviolette said. "It's never easy on a home opener and we had to face two of them so it's good to get out here with the four points and go home."
Juuse Saros, starting in place of reigning Vezina Trophy winner Pekka Rinne, finished with 26 saves for the Predators.
Mathew Barzal had a goal and an assisst, and Valtteri Filppula and Anders Lee also scored for the Islanders, who were trying to win new coach Barry Trotz's home debut. Josh Bailey had two assists and Thomas Greiss stopped 19 shots.
"We play like that, most nights we'll be fine," Lee said. "They just played a better game"
Trotz led Washington to the Stanley Cup championship in June before leaving in a contract dispute. He was then hired as coach of the Islanders to replace the fired Doug Weight after New York missed the playoffs for the eighth time in 11 seasons. The Islanders opened the season with a victory in Trotz's debut, 2-1 in overtime at Carolina on Thursday night.
"We handled their speed well, our overall execution was good and we defended well," Trotz said. "Overall, a good effort. We just didn't get the result."
New York outshot Nashville 22-11 over the final two periods and had several chances at the tying goal in the third, but couldn't beat Saros.
"We have great goaltending on this team and they're doing a great job back there," Arvidsson said. "We're trying to help them as much as we can. Sometimes they do amazing saves. It's good to have them."
Trailing 2-1 after one period, the Islanders tied it early in the second. Tanner Fritz deflected a shot by Filppula that bounced off both posts, and Filppula tapped it in from in front of the goal line on the right side at 2:46.
However, Smith put the Predators up 3-2 as he got a pass from Kyle Turris and fired it from between the circles off the post and in with 6 1/2 minutes left.
Arvidsson got his second of the night with 3:18 to go in the middle period from the right side to make it 4-2.
Lee, named the Islanders' 15th captain in franchise history earlier in the week to replace the departed John Tavares, pulled New York within one with 29 seconds remaining in the second. Bailey's pass deflected off Lee's skate and then Saros' pad before Lee knocked it in.
Arvidsson got the Predators on the scoreboard first as he passed the puck to himself between his skates while he got around defenseman Ryan Pulock, skated in and beat Greiss for his first 3:42 into the game.
"I thought I had (Roman Josi) on a 2-on-1 like last game but he was cutting behind me," Arvidsson said. "So I figured I'd try to catch him (Pulock) standing still … and managed to do that and nice to see it go in."
New York then tied it on a goal awarded after a video review with just under 8 minutes left in the opening period. Josh Bailey stripped the puck from Subban behind the net, sent it out in front to Barzal at the right side and the reigning Calder Trophy winner as the league's top rookie put it between Saros' legs. The goalie appeared to smother the puck with his pads, but the review showed his pad was across the goal line.
Ekholm regained the lead for Nashville as he beat Greiss from the top of the left circle with 3:04 left.
NOTES: Turris has 11 assists and 15 points in 20 games against the Islanders. … The Islanders and Predators conclude the two-game season series Oct. 13 at Nashville. … Islanders C Brock Nelson played in his 400th game. … Filppula, in his first season in New York and 14th in the NHL, has 10 goals and 27 points in 50 games against te Predators. … Trotz was Nashville head coach for the franchise's first 15 seasons and holds the franchise records for games coached (1,196) and wins (557) — putting him third all-time in NHL history in both categories with one franchise.
UP NEXT
Predators: Host Calgary in their home opener on Tuesday night.
Islanders: Host San Jose on Monday.
___
Follow Vin A. Cherwoo at www.twitter.com/VinCherwooAP
___
More AP NHL: https://apnews.com/tag/NHL and https://twitter.com/AP_Sports