Your friendly neighborhood Spider-Man swings back into action!
On Friday September 7th, Marvel released a new video game starring their most popular character, "Spider-Man." The game is available for the PlayStation4, and is probably one of the best, if not, the best, PlayStation game released so far.
It is not just the Hillsboro Technology desk's opinion that the game is one of the best because Sunday, September 9, Spider-Man swung to the very top of the best selling games list, the sales dominate any other game in the UK and Japan.
On September 20, 2018, Ps4's Spider-man game shattered all sales records set by any PS4 game. the Hollywood Reporters states, "Marvel's Spider-Man for the PlayStation 4 set a record for Sony by selling 3.3 million copies in its first three days of release, the fastest of any PlayStation first-party title in history, Sony confirmed to The Hollywood Reporter." 
The new milestone surpasses fellow PS4 exclusive title God of War, which moved 3.1 million copies when it hit shelves in April.
Spider-Man's success was buoyed by strong reviews and the fact that there hadn't been a full game dedicated to the web slinger since 2014's The Amazing Spider-Man 2, an underwhelming tie-in title with the Andrew Garfield-led film.
Considering the game's very large number of sales, people must think the game is good, right? The answer to that question is 'yes.' Players can give different reasons for loving the game, but I'm sure they would all agree that one of the best parts is getting to feel like Spider-Man as they swing around New York.
The gameplay is spectacular and has much to offer. Luckily, the controls are easy to wield. "You just feel the visceral feeling of swinging as Spider-Man, it really feels like you're in New York. This might be the best Spider-Man game." – Nick 'Lanipator' Landis (TFS Gaming YouTube). Landis is a popular game reviewer and praise from him is why those who are not sure whether to buy make a decision to do so.
Director of this game Bryan Intizar state in Heat Vision that getting the feel for "swinging" was the most important aspect for directing the game. "It's extremely hard. We knew right away that was the number one thing we had to get right. Everyone identifies that with Spider-Man, and to swing around is the ultimate fantasy fulfillment. Before we even had a city built or a Spider-Man model we had a guy on a string and were getting the sense of the mobility. We took a lot of our base that we built for Sunset Overdrive and taking that impression, that flow and bringing all that Spider-Man DNA and combining it," states Intizar.
Another aspect of the game is how Intizar states that the Parker narrative was important to get right as it is different from Tom Holland's Spiderman. "The main story is the main story, but what I will say is that as you play more things in the open world will open up to you. As the game goes on there will be more side activities that will open up related to a bunch of different characters or just citizens of New York."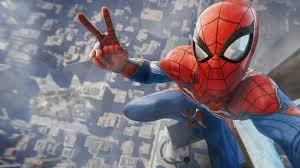 "Our expectations are always set at the highest levels, bringing Spider-Man back to gaming in a way that you want to experience it. It's met and exceeded all expectations. I think the company, and the campus, and our fans are super proud of it." stated Stephen Turvey who is PlayStation's Senior Vice-President of Sales. From the creators to the game fans, it is easy to see why is shattering sales in less than three weeks.
If you have a PlayStation4, the Hillsboro Globe Technology reviewers highly recommend you play this game
About the Contributor
Jared Ross, Journalist
My name is Jared Ross and I am a Junior and is in the Academy of Global Health and Science at Hillsboro High School.
I have earned CPR certificate from...