Open house, open arms; Volleyball teams honor those who struggle with DMD a form of Muscular Dystrophy
Tuesday night Hillsboro High School Lady Burros faced District 11AAA rivals, Dickson County  Lady Cougars in the first of two matches held this season.
Dickson County swept the match, 3-0, taking the 3rd set 25-15. While both the teams might be rivals on the volleyball court, they were unified in honoring special guests Jonah and Emory Marlin.
The Marlins are facing more than a cross town district rival, each is facing a life long battle with DMD, Duchenne Muscular Dystrophy. Both volleyball teams honored Jonah and Emory Marlin family with balloons and  a special signed volleyball.
During the intermission, both Marlins were invited to court side to receive the gifts and kind words. Both volleyball teams are helping to spread awareness about DMD.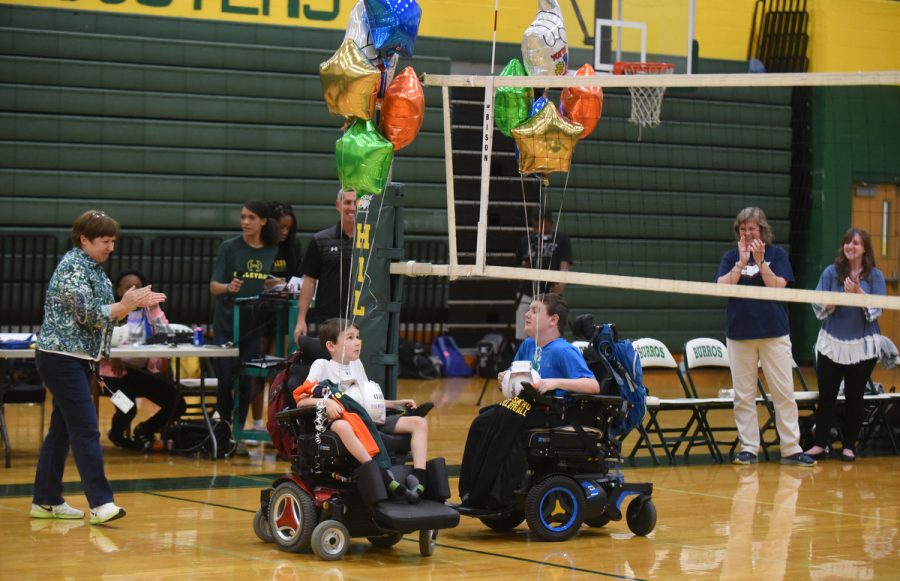 Duchenne muscular dystrophy (DMD) is a genetic disorder characterized by progressive muscle degeneration and weakness. It is one of nine types of muscular dystrophy. DMD is caused by an absence of dystrophin, a protein that helps keep muscle cells intact. Symptom onset is in early childhood, usually between ages 3 and 5. The disease primarily affects boys, but in rare cases it can affect girls.
What causes DMD?
Duchenne muscular dystrophy was first described by the French neurologist Guillaume Benjamin Amand Duchenne in the 1860s, but until the 1980s, little was known about the cause of any kind of muscular dystrophy. In 1986, MDA-supported researchers identified a particular gene on the X chromosome that, when flawed (mutated), leads to DMD. In 1987, the protein associated with this gene was identified and named dystrophin. Lack of the dystrophin protein in muscle cells causes them to be fragile and easily damaged.
Follow Jonah and Emory at FightDMD on Facebook to keep up with their fundraising efforts and stories.