20 people protesting poverty were arrested in march from Legislative Plaza to the Justice A.A. Birch Building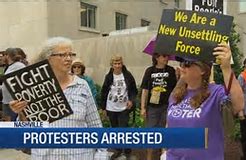 Hang on for a minute...we're trying to find some more stories you might like.
NASHVILLE – The recent protest supporting the elimination of poverty in Tennessee which was held  in from of the Justice A. A. Birch had many Nashville citizens wondering, "Why did they have to arrest people for a peaceful protest for something that need help?"
Every protest has a method to getting the attention of those observers passing by. Some protests concentrate on pithy signs, others have a sit-in or even a die-in. At the Tennessee Poor Peoples protest, protesters chained themselves  to each other, marched from a rally at Legislative Plaza toward the Justice A.A. Birch Building.
Unfortunately, 20 people was arrested were arrested at the Tennessee Poor People's Protest before they could arrive at the judicial building
Nashville Metropolitan Police officers on bicycles and foot surrounded the groups in the middle of the street.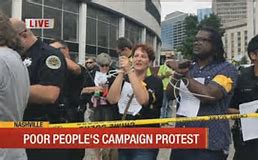 After the warnings the police began making arrests. The protesters were arrested on a charge of obstructing a roadway. One was arrested for resisting arrest.
The Poor People's Campaign, is a movement that has branded itself as "a national call for moral revival" that builds on the work of the civil rights-era initiative by the same name.
The protesters wore papers pinned to their shirt with the labels of groups disproportionately affected by incarceration. The focus of this protest, associated with similar demonstrations being held in other cities around the nation, was on the connections between systemic racism, voter suppression, poverty and discrimination against immigrants.
The Poor People's Campaign announced, "This was a good movement for Nashville," said by a older lady looking on to the protest. At least 600 others have been arrested in other peaceful protests. "I think its' sad that people can't voice their opinions without getting arrested if it was peaceful no harm was done," said by Amanda Osborne about how she felt. The Tennessee Poor People Protest has move a lot of people. A barber is the architect of the Moral Movement that started with protest at the North Carolina State Capitol.