The Burro kick-it scoring 62 points in big Homecoming win Friday

Hillsboro's 2017 Homecoming began with decorated board game hallways and ended with a day-glow rave that capped a huge win scoring 62 points against Glencliff's 7. The pomp and tradition continued with Executive Principal of HHS, Dr. Pelham crowning Kahlea Russell as Homecoming Queen.
Burro News Network
Russell was escorted by Jacob Frazier and it was a fitting that he escorted the Homecoming Queen as he was king of the field scoring four times in only six touches. Frazier scored on the first play of the game, an 84 yard kick-off return for TD; a 45 yard run for TD  a 59 yard run for his 3rd TD and a pass reception for 14 yards from Darius Smith all in the first quarter of the ball game.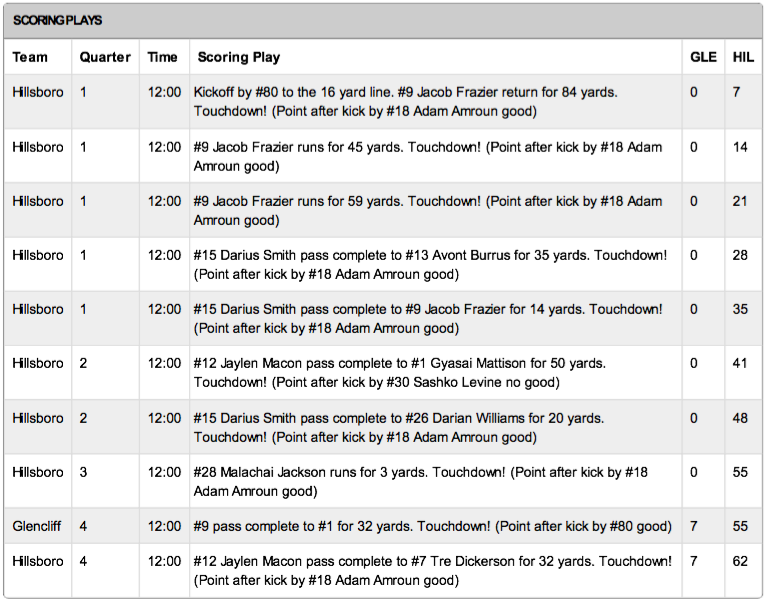 Darius Smith contributed significantly, completing 4 in 7 passes for 3 touchdowns for 77 yards threading passes for touchdowns to Avont Burrus (35 yards), Darian Williams (20 yards). Smith finished the night with a total of 77 yards.
Jaylon Macon, completed 4 in 9 passes for 101 yards, 2 touchdowns (Gyasai Mattison 50 yard rec.; Tre Dickerson 32 rec).

Glencliff's Brandon Cato completed threw for 110 yard in 12 of 24 passes and one touchdown to De'Andre Humphrey for 32 yard reception.
Another notable improvement to the offensive game of the Burros is the kicking game. Adam Amroun went 8 for 8 points after touchdown slicing the middle of the goal posts putting none of the extra points in doubt.
Defensively, the Burros led by Joseph Honeysucker were terrifying. Racking up 4 solo tackles, 2.5 sacks, Honeysucker led by example. Josiah Peek picked up on the defensive hunger and earned his 4 solo tackles and a sack along with Chance Williams.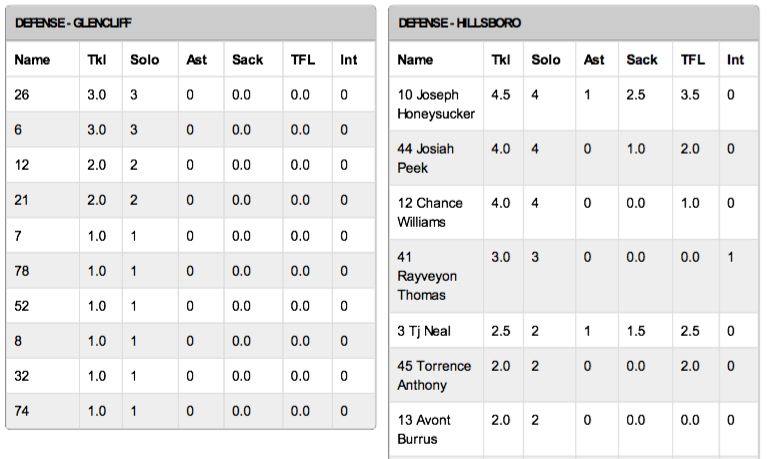 Hillsboro continues to be plagued by penalties giving up 105 yards in 12 thrown flags, several of which called back significantly long runs that set up sure scores compared to Glencliff's 2 penalties
for 20 yards. Next week, Hillsboro plays CPA in front of their home crowd and the penalty flags are going to have to remain in the ref's pockets as CPA is notorious for capitalizing on opponent mistakes.
The Burros are absolutely capable of giving CPA a ballgame, as they played tough with Pearl Cohn in the Metro Jamboree and Pearl Cohn recently beat CPA and what was perhaps the game of the year.
Playing with the focused intensity of Friday night is important, but the edge the Burros will need is having every Burro fan they can in the stands at CPA to cheer them on and counter the home crowd.