Metro School graduate recently drafted into WNBA; Joins the Phoenix Mercury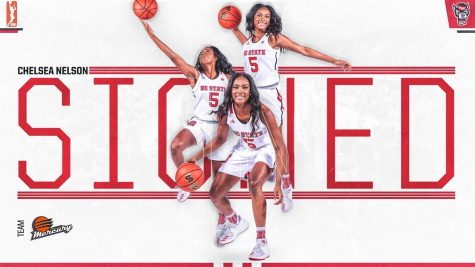 PHOENIX – It is exciting when any graduate from the greater Nashville area signs with a college and has four successful years as a student-athlete. It is even more gratifying to watch a career bloom into a professional career when the athlete is as genuinely passionate and talented as North Carolina State Wolfpack's forward, Chelsea Nelson who on April, 14, 2018 signed to the training camp roster of the WNBA's Phoenix Mercury, the team announced Wednesday.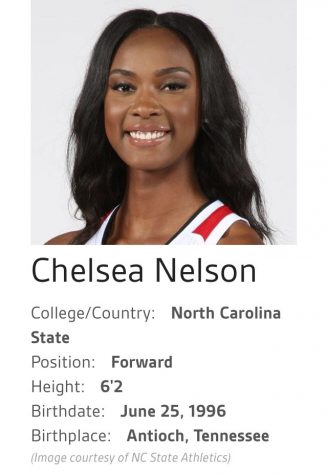 Senior forward, Chelsea Nelson of the No. 16 NC State women's basketball team averaged 12.9 points and 9.4 rebounds per game and is Nashville's new reason to watch the WNBA.
Nelson helped the Wolfpack achieve a very successful 2017-18 season that featured 26 wins and a return to the Sweet 16 of the NCAA Tournament for the first time since 2007. The Wolfpack posted a 16-2 record on Kay Yow Court that included two NCAA Tournament victories. The achievement of going 16-2 at Reynolds Coliseum marked the second best home record in 44 completed seasons of Wolfpack basketball.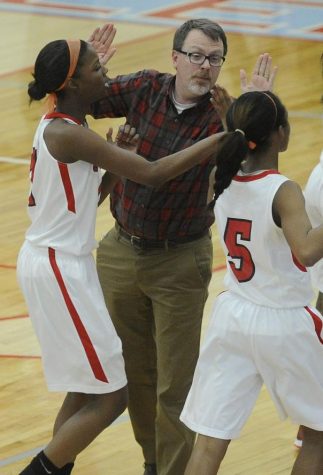 As a John Overton Bobcat, Nelson helped to lead her team deep into the TSSAA 2013-2014 state playoffs which ended in a sectional game against Rossview one game out from a trip to state. Averaging 13.5 PPG, 8.6 RPG, and 2.4 APG she lead her team to sectionals scoring 27 points against Franklin earning All District (regular season) and All Regional Tournament.
She was the first varsity female basketball player to earn 1,000 points since assistant coach, Monica League did in 2000 under coaches then assistant coach Todd Douthit and head coach Kayla Wiggins.
Ranked 24th among wing players by ESPN and prior to signing with North Carolina State, Nelson scored a 90 in ESPN's recruiting rankings. In addition to her time on the court, also was an accomplished cross country runner in high school.
As a member of the NCSU Wolfpack, Nelson was First Team All-ACC as a senior, junior and sophomore. And notably, she played all 33 games and averaged 17.3 minutes per contest her freshman year. Along with Ashley Williams, Nelson was named NC State's co-Sixth Man of the Year. She led the team in scoring (12.9 points per game) and rebounding (9.4 rebounds per game) as a senior and scored 10+ points in a game 28 times as a senior and 62 times for her career.
Nelson recorded 11 double-doubles during her senior season (21 career), Grabbed 10+ rebounds in a single game 13 times as a senior (23 career) and led the team in scoring on 11 occasions and rebounding on 20 occasions during her senior season.
"
"Chelsea Nelson is very athletic. She can probably guard a three or four player. She has good skills and can step out and shoot it. Since we're graduating a number of forwards (in 2014), I feel like she's someone who can come in and compete for playing time at the four position. With the way that we want to play defense, I think that she really fits in with our philosophy because of her speed."
— North Carolina State Head Coach Moore
Nelson set a new ACC Tournament record with 22 rebounds in a March 2 win over No. 18 Duke and scored a career high 30 points in a Feb. 22 win at Pittsburgh.
She finished fifth as the  all-time in the single-season record book in rebounds (329) and FTs made (126). Bettering those overall career accomplishments, she finished second all-time in the single-season record book in FTs attempted (180)
Nelson concluded her career 27th in total points scored for the Wolfpack (1173), ninth in games played (128), 11th in FTs made (308), and 11th in rebounds collected (794)
Perhaps most impressively, Nelson demonstrated she each year's  success as a map for her goals for the upcoming year. From her freshman to senior seasons, Chelsea improved her scoring average from 4.9 points per game to 12.9 points per game and from her freshman to senior seasons, improved her rebounding average from 4.0 rebounds per game to 9.4 rebounds per game.
Based on her data, the Phoenix Mercury have signed a player who intends to mark up record books. We know from her early years in high school, she really is only getting started.