2017 Region 6 -5A Announced MVPs and Superlatives announced Monday at annual banquet
Hang on for a minute...we're trying to find some more stories you might like.
FOR IMMEDIATE MEDIA RELEASE:
Nashville, TENN – The 2017 BlueCross Bowl will soon decide this year's nine state champions, but closer to home most valuable players are being named in each TSSAA region of football.
This past Monday evening, on November 27th,  TSSAA Region 6 – 5A MVPs and Superlatives were acknowledged at an annual banquet held at the Cherokee Steak House in Gallatin.
Football coaches, players, athletic director and ,  TSSAA Region Coordinator, Chip Sullivan enjoyed a steak and baked potatoe dinner and much camaraderie.
Chip Sullivan, who acted as the host for the evening,  noted in his opening remarks that Region 6-5A is not only a one of the classiest groups of coaches and players, but has some of the best talent in the state some who were not in attendance because they would be playing for the gold ball in Cookeville on Thursday night. "I know that you all know this but we really should recognize the talent, class and superior coaching that led these young men through a successful season. It goes without saying that to have the 5A west representative from your own region only underscores how talented all of you are."
Not in attendance were the Beech superlatives and MVPs as they were wholly focused on preparing for their trip to Cookeville to play Knoxville Catholic High School on Thursday evening on a few days from Monday evening.
When the names of the Beech players were announced in front of their peers, a huge round of applause was given in their honor and it was evident that every player and coach, while competitive during the regular season, took pride that the state champion or runner up would be from within their region.
Coach Sullivan introduced each coach who then was given an opportunity to introduce their players, comment, some humorously, some poignantly about each player adding to the acknowledgment of each player.
Photos are included in the below link and a slide show above for players, families, schools and media. If photos are published, please give credit to Mike Strasinger for the Hillsboro Globe.
THE 2017 REGION 6- 5A MOST VALUABLE PLAYERS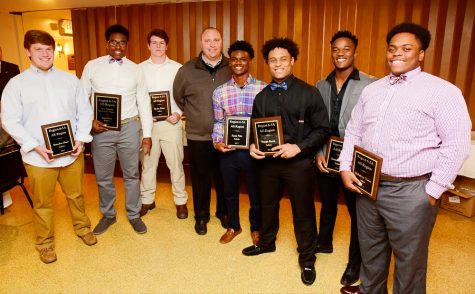 MVP – Kaemon Dunlap, Beech High School
MVP Offense – Jacob Frazier, Hillsboro High School
Co-MVP Defense – Chaz Williamson, Beech High Schoo  – Jalen Porter, Gallatin High School
MVO Lineman -Cole Pulley, Beech High School
MVD Lineman – T. J. Neal, Hillsboro High School
Special Teams – David Johnson Beech High School
2017 Coach of the Year – Anthony Crabtree, Beech High School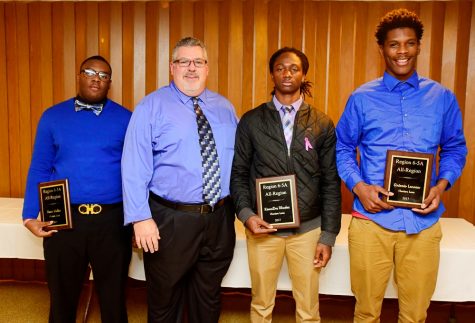 ALL REGION TEAM
Beech High School: Jordan Adams, Garrett Butler, Heath Crabtree, Ty Dean, Ty Moore, Jahmall Robinson and Nelson Smith
Gallatin High School: Brandon Claude, Xavier Fitts, Reggie Morris, Sirtavious Perry, Bailey Silcox, and Archellous Turner
Glencliff High School: Tyler Murphy, Rishad Petrus, Hunter Robinson
Hillsboro High School: Torrence Anthony, Decorian Bowers, Travon Brasher, Joe Honeysucker, and Gysai Mattison
Hillwood High School: Cymitrius Addison, Daniel Bonner, Eric Kinnard and Tyvay Wine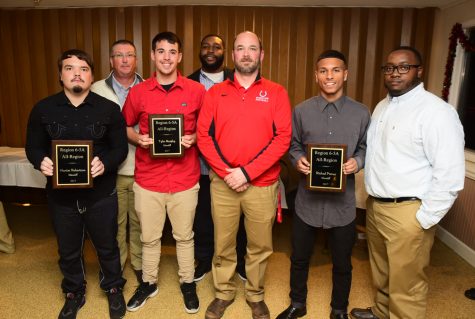 Hunters Lane High School: Antonio Lennear, KevonDre Rhodes and Kevin Walker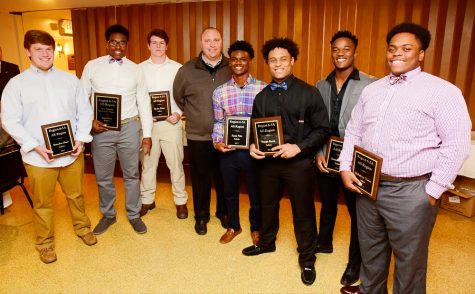 All pictures in gallery are available at this link and if published must be credited to HillsboroGlobe.com