The Future of Computing! The Developer Edition of Microsoft's Hololens demonstrates potential in a mixed reality of holograms.
Claiming to be the first self-contained, holographic computer, the Microsoft HoloLens allows an individual to interact with holograms in their surrounding environment. Using Mixed Reality, the company is paving the way into the future of computing.
"
"People, not devices, are mobile. We are ready for technology to move beyond devices, beyond screens and pixels, and beyond today's digital borders.""
— Microsoft Technical Fellow- Alex Kipman,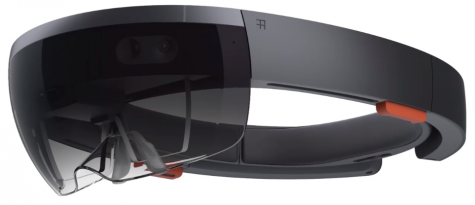 The HoloLens is a mixed reality computer in the form of a headset. It allows for holograms to be projected on the surrounding environment.
Interaction with these holograms is possible and allows for many possibilities.
A whole new way of achieving higher levels of efficiency and safety in businesses and with customers.
The Hillsboro Globe recently interviewed Microsoft Store and Product Advisor, Phil from the Green Hills Microsoft store. Phil also gave the Globe a chance to test-run the product.
Hillsboro Globe: So, the HoloLens is different from other technology such as the oculus because it overlays holograms in the person's environment. Are there any other notable differences in terms of design and functionality?
Product Adviser:  "Another significant feature is that the HoloLens is its own system. There are no standing cables."
Hillsboro Globe: Have you ever used the device before? If so, could you give me a quick summary of your experience? 
Product Adviser: "I got to try it out temporarily at a conference. It was a small and simple game in which there was a holiday box. The box would open, and a bunch of tiny people would fly out. The task was to simply pick them up and put them back in the box. Simple enough, but very cool nonetheless. The screen is smaller than your field of view."
There is not an official date for consumer release, but there is a developer edition currently on the market. At a price of $5000, the developer device is being sold to over 29 countries.
Another version, the commercial or consumer device, it planned for release in 2019. It is speculated to shrink the headset's size and improve battery life, processing power, and field of view.
Nonetheless, the current device stirs up many questions to the capabilities and applications of this device.