ICYMI: Climate change is a real thing that is putting the earth in danger. Could Earthships be the solution?
Our ICYMI stories are selected stories fromt he 2022 Spring semester that you might have missed because of exams, orsports competitions. We hope you enjoy.
The waste that people produce daily is the main cause of climate change and global warming, Earthships are a way that we can lessen the effect of global warming.
An Earthship is a type of passive solar house that is made of both natural and upcycled materials (such as earth-packed tires). Earthships can be completely off-grid or partially off-grid. Earthships can be built in any part of the world, in any climate (with a permit) and still provide electricity, potable water, contained sewage treatment and sustainable food production. Whatever temperature goes into an Earthship, it will hold… and since it is also a Passive Solar House, it is also very tight and interacts only with the sun and the earth for heating and cooling, providing stable comfort year round in any climate.
The Global Earthship design performs in almost any climate around the world. The main features of this design include a double layer of glass ("double greenhouse") between the inner living spaces and the outside and the use of underground cooling tubes and convection skylights which work together to provide ventilation and natural air conditioning for the building.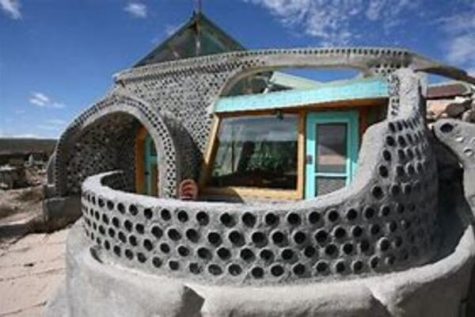 Global Model Earthships have been built in France, Germany, Mexico, Canada and across the United States. Earthships produce their own electricity with a prepackaged photovoltaic / wind power system. This energy is stored in batteries and supplied to your electrical outlets. Earthships can have multiple sources of power, all automated, including grid-intertie. Earthships contain, use, and reuse all household sewage in indoor and outdoor treatment cells resulting in food production and landscaping with no pollution of aquifers. Toilets flush with greywater that does not smell. Improves and adds to conventional systems without replacing. Liquid Waste Water Planters provide for prolific Food Production.
Earthships catch water from the sky (rain & snow melt) and use it four times. Water is heated from the sun, biodiesel and/or natural gas. Earthships can have city water as backup. Earthships do not pollute underground water aquifers. Earthship wetlands, the planters that hold hundreds of gallons of water from sinks and the shower are a great place for raising some of the fresh produce you'd like to have in the winter, but find expensive or bland tasting from the supermarket. Earthships use interior greenhouses for treatment of grey water, as well as to grow food and enhance the natural beauty of the home.
Steven Preister- environmental science teacher thinks that on a larger scale that Earthships wouldn't be as effective by themselves but as component of some other plan could help show results.