Hillsboro Players produce Peter Pan as a new, reimagined play
Hillsboro's first fall play of the school year will feature a new take on Peter Pan.
Save the Date! This October 26th – 3oth, Hillsboro's theater department, The Hillsboro Players, will be presenting Peter Pan at Hillsboro High School. The performance is a new version created by John Caird and Trevor Nunn about "The Boy Who Wouldn't Grow Up."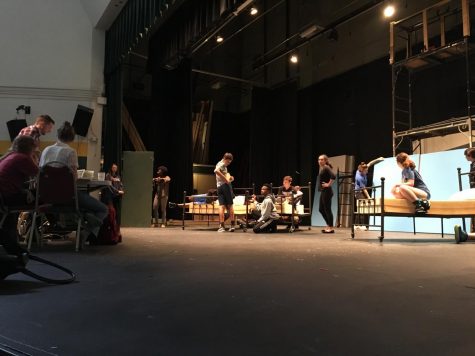 Practices have begun every day after school, except Friday. Both Ms. Moon and Mr. Butler expressed their excitement for this production.
"I'm really excited. We have a lot of underclassmen in the show, and J T Moore has a really strong drama program. They are sending us some really talented 9th graders who are more prepared than 9th graders have been in the past. It's the first show that we've seen such an influx of really talented 9th graders who are ready to take on the show."
Ms. Moon continues to talk about the upperclassmen.
"Of course, we have the seniors, our two principal roles. Captain Hook is being played by a woman, Skylar Fischer and also doubling as Mrs. Darling. So her character represents the duality of mothers. How mothers can inflict injury and provide comfort at the same time sometimes. Peter Pan is being played by a senior, Duncan Corbin."Mr. Butler also stated, "I am really excited about this production because there are really a lot of spectacular layers to it…It is not going to be anything like the Disney production."
"
It is going to be Peter Pan like you have never seen it before.
— Mr. Butler
The Hillsboro Players also noted some new and unique elements will be used for Peter Pan, for example, American Sign Language:
"Hillsboro is the deaf-ed school in Metro and so it would be a very clever way to highlight the fairy language and make it something unique….We have been working with Mrs. Slider who is the deaf ed teacher here. She has been our consultant; she is going to help the cast learn the sign Language that is necessary for the show." Mr. Butler stated.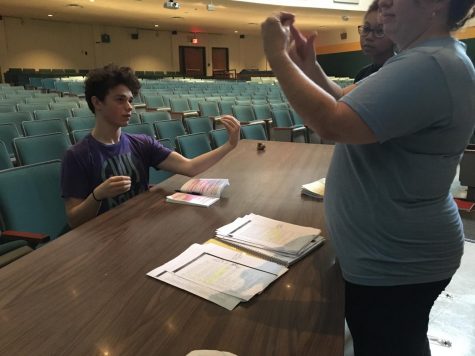 In addition to sign language the cast will also incorporate different types of music for some of the main characters: 80s rock music like Glam Rock and Sindy Lockbe for Hook and electronic pop music for Peter Pan. Life size puppets and a specialized choreography called frantic assembly will also contribute to the play's magical atmosphere.
Austin Cowden, a sophomore, will be playing Wendy in Peter Pan. She has been acting in theater since the age of 6 and starred in 12 Angry Women and Guys and Dolls last year.
"[Theater] really helps me express my emotions because I tend to hide them…It has been a really good way for me to come out of the small shell I was in."
"
The theater community is so open and welcome, especially to new people.
— Austin Cowden
This upcoming April will feature Into the Woods, a Tony award winning musical based on the fairytales of Brothers Grimm and Charles Perrault. It will feature a student from one of Hillsboro's feeders school.
"It's a non singing role. Our decision to do that goes back to trying to get the elementary and middle schools involved this season and giving them the opportunity to not only to come see the show but to have the potential to be in it. So, we're casting a child as the narrator instead of an adult in Into the Woods, and that child will come from one of our feeder schools." Ms. Moon said after being asked about the primary role.
Peter Pan will be shown in October produced by the Hillsboro Players at Hillsboro High School.
About the Contributor
Olivia Turner-Leftwich, Journalist
My name is Olivia Turner-Leftwich, and I am currently a sophomore at Hillsboro High School. I am in the International Baccalaureate Diploma Program and...