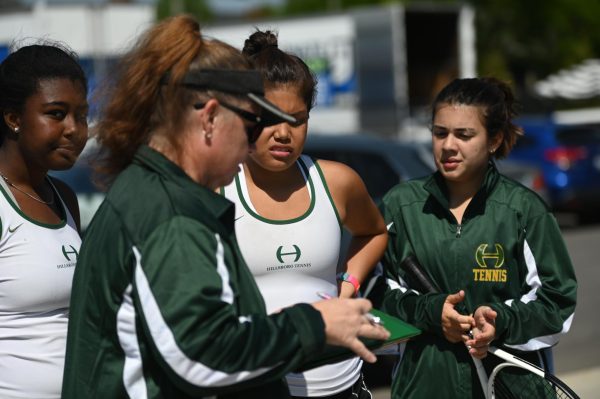 Sherie Miller, is the Coach of the new Tennis Club.
The Tennis Club started at the beginning of fall, 2023 in the facilities at Hillsboro High School. The students were so excited about the news!
Since the season of Tennis starts in January 2024, Coach Miller decided to open this Club and allow tennis players to keep practicing until the season comes, as well as people that haven't played tennis. These beginners have the opportunity to learn a new sport while having fun with friends.
The Hillsboro Racquet and Tennis Club is an exciting activity designed for Tennis lovers. With high quality facilities, a nice environment, and committed trainers that will bring you support and great tips for improving your skills, while allowing you to achieve your highest potential. During trainings you will practice in your serve, your backhand and even learn fundamental expertise.
When you enter a new club, it is normal that you feel out of place at the beginning, but it's just for a short period of time before you feel more comfortable. Meeting your classmates and your coach is an important step in a sports career. They are the ones that will teach you throughout your career. They are the ones that know your strengths and weaknesses and take that information so they can give you advise on how to improve.
The Hillsboro Globe had an interview with the Head Tennis Coach; Sherie Miller, and she talked us through some of the objectives and future goals with this club. We can say that Coach Miller is a great teacher, and the tennis community is really thankful for her.
She started playing tennis around the age of 8, she was amazed with the tennis she saw on TV and asked her parents for a tennis racquet, at first, she was self-taught, and then by the age of 12, after practicing and with a lot of hard work she started playing tournaments in her community. She enjoyed playing tennis so much, and so, this was the inspiration for her to keep practicing. She continued playing in high school and college in Ball State University, Indiana.
"I love tennis so much. I think it is the best sport on this planet. We need more people to get interested in tennis" – Coach Miller.
GOALS FOR THE HILLSBORO TENNIS CLUB
Coach Miller's goals are to start playing little tournaments within the club, and then eventually play fall tournaments against other high schools. These goals are set to prepare tennis players for the season of 2024 and for kids who want to try something new. Coach Miller stated that she wanted to introduce people to the game of tennis, hopefully help them develop their new static skills and then, for those people that have been playing, just inspire them to keep working and learning new things to become better.
Coach Miller will work with you so you can transform and develop into this better tennis player. Tennis is not just about competing, it is more than that, it will teach you how to work with a group, solve problems and react the best way in front of a situation. The most important thing tennis will leave you are the friendships, the memories, and the experiences you will make. Tennis Club is definitely will set you with memories that will last with you for the rest of your life. Don't miss the opportunity to create the best experiences during your years here, at Hillsboro High School!