SEC Slate of Games to Watch – Week #5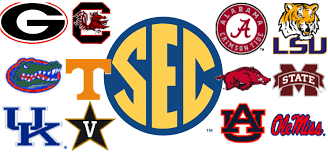 SEC WEEK 5 SLATE OF GAMES
Mississippi St (1-3) @

#2 Alabama (5-0)
Sat 10/31 6 pm ESPN
 #5 Georgia (3-1)

@ Kentucky (2-3)
Sat.10/31 11 am SEC Network
Ole Miss (1-4) @

Vanderbilt (0-3)
Sat 10/31 3 pm SEC Network
Arkansas (2-2) @

#8 Texas A&M (3-1)
Sat 10/31 6:30 SEC Network
Missouri (2-2) @

#10 Florida (2-1)
Sat 10/31 6:30 SEC Alternate
SEC GAME OF THE WEEK
LSU @ Auburn
Sat 10/31 2:30 CBS
This is a matchup between two teams that are having disappointing seasons. The desire to change this momentum is strong for both teams and will likely turn out to be the catalyst for a great game.
What we will know after 4 Quarters….
Is LSU's starting QB Myles Brennan over his lower body injury or will TJ Finley get his second start in a row?
Auburn's QB Bo Nix has been in a slump and needs to step his game. Will he continue on the roller coaster is on presently or will he settle down an throw passes for TDs like we have seen in the past?
Regional Matchups
MTSU-bye week
Next week vs Charlotte (2-2)