MNPS kicks off 2019 football season with the 2nd Annual Metro Football Media Day
NASHVILLE, Tenn – The 51st Annual Metro Football Jamboree is just around the corner. Metro Nashville Public Schools held their second annual Football Media Day at the Martin Professional Learning Center.
MNPS's Athletic Department led by Athletic Director, Roosevelt Sanders created a pep rally atmosphere that included key returning players from the MNPS high schools and their coaches. Media and community leaders were treated to a performance by Cane Ridge  High School's Drum Line and a tunnel of cheerleaders from each of the high schools.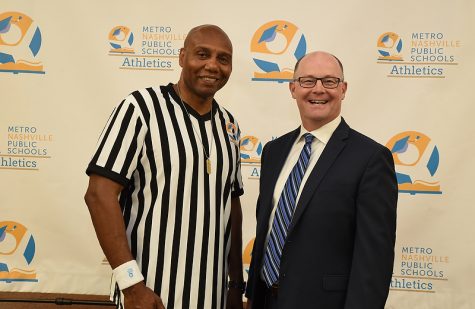 Metro Media Days are more than an opportunity for the area prep media outlets to interview coaches and get a media guide, they are also a chance for athletes to come together as a community.
The 2019 football season officially begins in two weeks, however, the traditional MNPS kickoff of the season begins next week with the 51st Annual Metro Jamboree.
This three-day event is an opportunity for high schools to play a team that not in their classification or region. This 51 year tradition that is a football fan's dream.
Each night of the jamboree, teams will play two quarters of football at rotating locations.
The first night begins Thursday, August 15th at East Nashville High School opening with Maplewood against Stratford and finishing with East Nashville taking on Hunters Lane High School.
Friday night, August 16th,  the jamboree location moves to McGavock High School.
The first match of the evening starts at 6:00 p.m. with a Southeast matchup between Antioch and Glencliff. The second game is Hillsboro who will take on the Saints of Mt. Juliet Christian Academy. Pearl Cohn and McGavock will close out the only three-game night of the three day event.
Overton hosts the last nightie third night on August 17th.  Cane Ridge will battle Hillwood followed by a north-south match up between Overton and Whites Creek. Thursday and Saturday's games begin at 7:00 pm. Friday night the games begin at 6:00 pm.
Tickets can be purchased at the gate for $7.00.