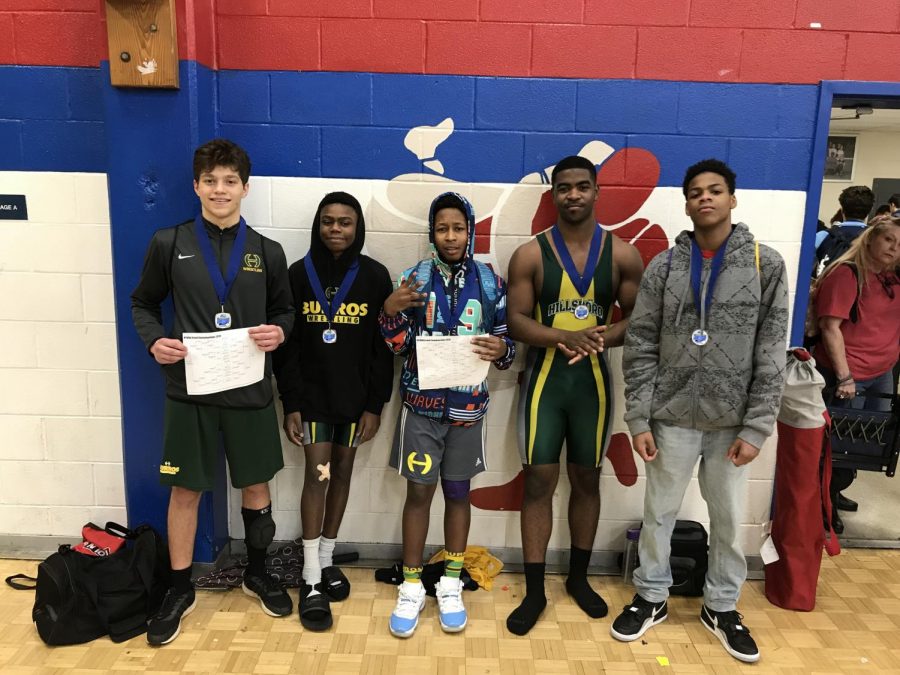 Hillsboro Wrestling defeats Brentwood Academy Thurs. & Freshman and JV rip through the tourney at McGavock Saturday
Hillsboro Wrestling defeats Brentwood Academy Thurs. & Freshman and JV rip through the tourney at McGavock Saturday
Results from the Brentwood Tri-School Match,
January 17, 2019
BRENTWOOD, Tenn.- On Thursday, January 17th 2019 Hillsboro Wrestling dominated BA in a season ending close off that was fitting with how their season has been going all year long.
The wrestling team is performing well at just the right time before Duals and Individual Regionals. On Saturday, junior varsity and freshmen had 9 athletes place at the McGavock
They won all three wrestling matches
Hillsboro over BA; Hillsboro over Stratford, Hillsboro over Clarksville Academy
Pins against BA by Christian Brown (106); Tahj Jackson (126) Darian Williams (145) ; Chet Weachter (152); Charles Cromwell (160); Jaden Halliburton (170); Chance Williams (195)
Hillsboro v Stratford pins: Darian Williams (145); Cooper Sacks (138) major with 10 point win
Mohammed Mohammed (120) earned a tech fall  (15+ point win) against BA
On Saturday, January 19 McGavock hosted a tournament for JV and freshman wrestlers.
Hillsboro had seven place. Mykeal Trump, head coach of the Wrestling Burros stated, "These athletes wrestled very well today and I am extremely proud of them."
The MTWOA Grand Championship Results
Saturday, January 19, 2019
Hillsboro's female wrestler, Taliyah Autumn finished 4th
Quarterfinals – Makiel Holloway (Hillsboro) over Lane Lewis (Centennial) (TF 24-9 6:00)

F120A

1st Place Match –

William Griggs (Beech Senior) over

Makiel Holloway   

(Hillsboro)

2nd Place

(Fall 5:25)

JV152

Quarterfinals –

Chet Weacher (Hillsboro)

over Houston Brown (Rossview) (Dec 16-11)

F126

Quarterfinals – Blake Brown (Beech Senior) over

Joshua Boyd

(Hillsboro) (Fall 3:34)

F126

Cons. Round 2 –

Joshua Boyd (Hillsboro)

over silas lind (Centennial) (Fall 1:57)

F126

JV 126

JV 138

Cons. Round 3 –

Joshua Boyd (Hillsboro)

over Evan Terns (Nolensville High School) (Fall 1:25)

Champ.round 1 – Tajh Jackson 

(Hillsboro )

1st place

Champ.round 1 – Cooper Sacks

(Hillsboro )

1st place

JV145

Champ. Round 1 – Wesley Rummage (Summit) over

Grant Underwood (Hillsboro)

(Fall 1:50)

JV182

Quarterfinals – Chad Miller (Brentwood) over Simeon Dudley (Hillsboro)

(Fall 2:46)

JV182

Cons. Round 2 –

Simeon Dudley (Hillsboro)

over Robert Owen (Friendship Christian School) (Fall 1:36)

JV195

Quarterfinals –

Josiah Peek (Hillsboro)

over Micah Magrecke (Creek Wood) (Fall 1:09)

JV195

Cons. Semis –

Josiah Peek (Hillsboro) 3rd place

over Kylar Edwards (Clarksville) (Fall 0:49)

JV195

3rd Place Match – Josiah Peek (Hillsboro)

over Micah Magrecke (Creek Wood) (M. For.)

F106

Cons. Semis – Christian Brown (Hillsboro) 3rd place 

over Dean Klueppelberg (Brentwood) (Fall 3:46)
Contributor: Mikeal Trump