Coach Porter is Burro bank manager by day and Burro basketball coach at night
Join the US Community Credit Union with a $25 deposit and get a chance to grab all the money you can in the USCCU Money Machine.
More stories from DeShaun Ellis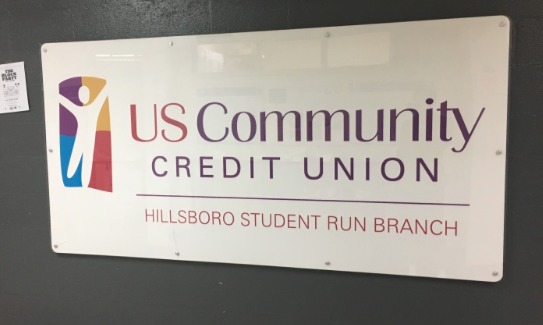 The Hillsboro US Community Credit Union branch has been a staple of the school since it first became  a named partner of the Academy of International Business and Communications.
It has never been this easy to deposit and withdraw money when you need it quick. This is especially helpful when you need money for a drink or a snack from the Burro Brew.
The Hillsboro Globe spoke with the manager of the US Community Credit Union,  Coach Porter,  about the mission of this credit union and  the benefits of being a member.
Hillsboro Globe: All right,  so, when did the credit union choose to become a named member of Hillsboro's Academy of International Business Communications?
Coach Porter: So,  the reason that USCCU chose Hillsboro was because of the location to Green Hills. They wanted to mirror other locations they have around the city of Nashville. Hillsboro is closest to their Hermitage Avenue location. There's talk to have more branches in other schools in Metro and to ultimately have them all around Nashville.
Hillsboro Globe: How did you become involved?
Coach Porter: I became involved because I have a background in Finance. I worked at an accounting firm called . I worked in their IT department, but I dealt with the finance side as well.
Hillsboro Globe: Why should people sign up to become a member of a credit union?
Coach Porter: People should sign up for a checking or savings account simply because it promotes financial literacy. A lot of students don't really learn about financial literacy until they make a bad choice and then they learn about it the hard way.
I would say financial literacy is the primary reason, but, it is also ver convenient. It's right inside the school across from the main office and cafeteria. Creating an account gives students a method to practice saving their money. We live in a society that is more about spending money. We don't really value saving money, but I think that's an important thing for our academy to promote.
Hillsboro Globe: Does USCCU have a promotion going on right now for new members?
Coach Porter: Right now we actually have a special. If you open up a checking account with at least $25, new members will get a chance to grab money in the USCCU Money Machine. Whatever money that the new member grabs is deposited immediately into his or her account. We have specials all year. We always have some type of incentive to open up an account.
Hillsboro Globe: All right, tell our readers what it is like to work at a USCCU branch?
Coach Porter: It is amazing. I enjoy working for any USCCU branch. I enjoy the environment I think it's a very progressive company they're trying to be at the forefront of: Technology, Promotion, and Social Media Marketing. 
Hillsboro Globe: Thank you, Mr. Porter

About the Contributor
Deshaun Ellis, Music Critic
Caleb Ellis

Marketing & Management Student

US Community Credit Union Academy of International Business and Communications

Hillsboro High School...