Fast start helps No. 1 Alabama trounce Tennessee 58-21
Vols' Kyle Phillips named SEC DL of the Week
KNOXVILLE, Tenn. —Tennessee (3-4, 1-3) fought back in the second quarter, scoring touchdowns on back-to-back drives, but the Volunteers fell to No. 1 Alabama (8-0, 5-0) , 58-21, on Saturday at Neyland Stadium in front of a crowd of 97,087. It was the 101st of the two SEC teams, the Volunteers are now  38-55-7 against Alabama following Saturday's loss.

The Crimson Tide continued a few of their ongoing streaks. Alabama quarterback, Tau Tagovailoa threw touchdown passes to four receivers, extended his streak of failing to throw an interception and Alabama scored its 9th first drive touchdown of the year. The Heisman Trophy contender  has thrown 25 touchdown passes connecting Saturday with  Jerry Judy, Jaylen Waddle and Irv Smith Jr.

Tagovailoa went 19 of 29 for 306 yards before leaving midway through the third quarter with Alabama ahead 51-14. He took a big hit on his final play of the day, a 51-yard touchdown pass to Henry Ruggs III.

Alabama had touchdowns on its first four possessions while outscoring Tennessee 28-0 and outgunning the Volunteers 217-6 in the opening period. The Tide has outscored opponents 165-31, and Tennessee has been outscored 69-16 in first quarters this season. Tennessee is not the only team Alabama has rolled. Alabama is scoring 54.1 points per game and entered the weekend leading all Football Bowl Subdivision teams in that category.

"I think we learned a lot about our football team today," UT head coach Jeremy Pruitt said. "There are some guys we had on our team that this game was way too big for them, and I think everyone was able to see that. It helps us, and we'll move on with it. We play a good football team next week, so we have to go back to work tomorrow and get ready for South Carolina."

"

You can see why Jeremy Pruitt loves Kyle Phillips. Really nice, humble kid off the field but works his tail off, does everything he's asked to do and plays hard on the field"

— Wes Rucker, Sports Commentator

.

In a game of bungled plays and missteps, Phillip's second half defensive score is one of the few takeaway highlights that marks the 12th straight loss to Alabama.

Pruitt cited Phillip's effort in the game as an example of players who are, everyday, demonstrating how to play and compete the right way. "Kyle (Phillips) has been trying really hard and has ever since we've been here. Kyle, Alexis Johnson, Paul Bain and Shy Tuttle are really the five guys who are seniors playing on the defensive side right now and really the only seniors playing. They've tried to do it the right way and bought in ever since we've been here."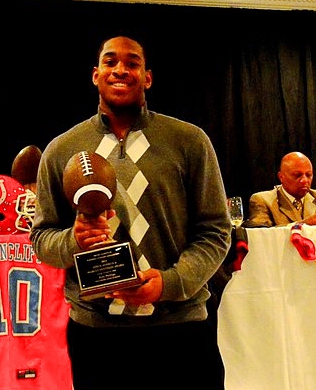 It's easy to see why Hillsboro High School graduate and University of Tennessee Football Captain, Kyle Phillips, was named SEC DL of the Week on October 15, 2018. His interception of Jalen Hurt's pass in the third quarter opposing player, pick six against Alabama since junior linebacker Daniel Bituli returned an interception 97 yards for a TD in 2017.
UTK NOTABLES:
Tennessee quarterback Keller Chryst went 9 of 15 for 164 yards with two touchdown passes after replacing starter Jarrett Guarantano, who got hit by linebacker Mack Wilson midway through the second quarter and never took another snap.
Redshirt sophomore quarterback Jarrett Guarantano completed 5 of 10 passes for 63 yards.
Redshirt senior backup quarterback Keller Chryst entered the game with 8:40 left in the first half and went on to complete 9 of 15 passes for 164 yards and two touchdowns.
Offensively, the Vols were led by redshirt junior wide receiver Jauan Jennings  (Blackman High School) and sophomore running back Ty Chandler (Montgomery Bell Academy) who had three receptions for 39 yards and a touchdown. Jennings had a career game with who caught six passes for 102 yards,  Chandler also added 21 yards on the ground. His touchdown reception makes him the first Tennessee running back ever with TD catches in three consecutive games.
TAKEAWAYS
Tennessee's all-time record is now 836-387-53. UT ranks 10th all-time in wins among NCAA Division I programs.
The Vols hold an all-time record of 465-130-17 at Neyland Stadium, boasting the second-most wins of any school at a current stadium.
The Vols must learn to play better at the start of games. Tennessee's lack of discipline early was a concern, as the Vols committed a few personal fouls early and had cornerback Alontae Taylor ejected in the first quarter.
UP NEXT
Alabama has next week off before visiting No. 5 LSU on Nov. 3.
Tennessee hosts Charlotte on Saturday