Hillsboro's Lady Burros Volleyball team completes season with big win to celebrate senior night
Hillsboro senior volleyballers, Alia Logoleo and Anna Ball, along with team manager Ella Jones, went off the court winners on Senior Night after the Burros beat Hume Fogg 3-1 in a great match before a huge crowd at Hillsboro High School.
Hillsboro took the first two sets, (25-17, 27-25) only to see Hume Fogg come back and get the 3rd set 25-23.
Head coach Sarah Rucker, thrilled with her team's performance had this to say after the game.
Our Senior night was so special and it is one of my most favorite events because our families and fans really do show up to support the graduating team members. This year was no different as we honored 4 year starter Alia Logoleo and 4 year varsity player Anna Ball. Our senior team manager, Ella Jones, was also honored.
These three athletes are the definition of what leadership, commitment and dedication look like. They have stepped up to make this program better by adding tremendous value to our program. They are great students, friends, and athletes. Although our season isn't over with, it was that last time to play on their home court! We are working hard to win our 4th district title on October 1st over Dickson County at Cane Ridge at 6pm.
Hume Fogg seemed to be getting stronger, but Hillsboro rallied to come back and take the 4th set 25-17 to win the match 3 -1.
This match was the last home game for the Burros.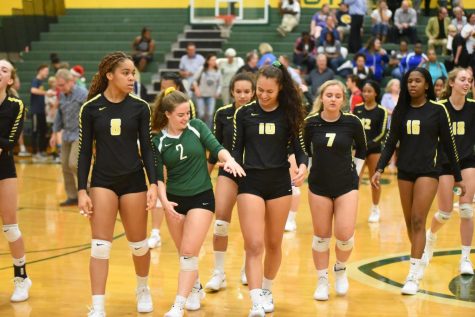 UP NEXT FOR THE LADY BURROS
Hillsboro is vying for its 4th District title in a row. The district tournament will be hosted by Cane Ridge High School and opens October 1, 2018 at 5:00 PM.
Though not firmly set, the top 4 teams  will play (1 seed plays 4 seed; 2 seed plays 4 seed). Winner of these matches will immediately play at 6:00 PM