Hillsboro Lady Burro Devon Burns hits 1000!
Hang on for a minute...we're trying to find some more stories you might like.
Nashville, TENN – For a high school boys or girls basketball player, scoring 1,000 career points is the ultimate goal. Hillsboro High School Senior, Devon Burns,  who recently signed with Cumberland University hit a personal milestone scoring her 1000th point.
In a traditional presentation on Monday evening, shortly after she scored her first basket, the game was stopped and she was presented with the "White 1000" game ball.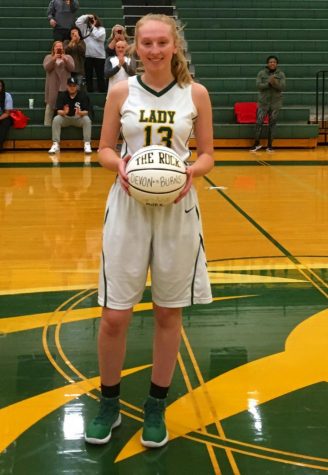 When the game was stopped, and she was directed to the center floor, Devon thought she had earned an unusual foul of some sort. "I thought I had done something bad and coach was mad at me," said Devon. "I tried not to show to much emotion but, I was really excited."
Devon has been a Lady Burro for 4 year and currently has accumulated 1021 points for Hillsboro High School. She has shown both her coaches and her team mates just how dedicated she is to the game. " I've had a lot of girls sign with other college teams, but this one holds a special place in my heart." stated Head Coach of the Lady Burros Cherish Springfield.
Joining the 1000 point club is an important milestone.Any player that has scored 1,000 or more points didn't do it by accident. They have all put in countless hours shooting the basketball.
It does seem like scoring 1,000 points in a career is more common now, but it never should be diminished. It's a major accomplishment, and it should be celebrated.
About the Writer
Angel Powell, Assistant Photo Editor
Hello, My name is Angelina Marie Powell but everyone calls me Angel! I'm a student at Hillsboro High School, and just recently started my own photography...