Fats Domino stirred New Orleans flavor into rock 'n' roll, dead at 89
NEW ORLEANS (AP) — In appearance, Fats Domino wasn't a typical a teen idol. He stood 5-feet-5 and weighed more than 200 pounds, with a wide, boyish smile and a haircut as flat as an album cover. But Domino sold more than 110 million records, with hits including "Blueberry Hill," "Ain't That a Shame" and other standards of rock 'n' roll.
Domino, the amiable rock 'n' roll pioneer whose steady, pounding piano and easy baritone helped change popular music even as it honored the grand, good-humored tradition of the Crescent City, died early Tuesday. He was 89.
Mark Bone, chief investigator with the Jefferson Parish, Louisiana, coroner's office, said Domino died of natural causes early Tuesday morning.
His dynamic performance style and warm vocals drew crowds for five decades. One of his show-stopping stunts was playing the piano while standing, throwing his body against it with the beat of the music and bumping the grand piano across the stage.
Ed Sullivan show, 1956
Domino's 1956 version of "Blueberry Hill" was selected for the Library of Congress' National Recording Registry of historic sound recordings worthy of preservation. The preservation board noted that Domino insisted on performing the song despite his producer's doubts, adding that Domino's "New Orleans roots are evident in the Creole inflected cadences that add richness and depth to the performance."
He was one of the first 10 honorees named to the Rock and Roll Hall of Fame and the Rolling Stone Record Guide likened him to Benjamin Franklin, the beloved old man of a revolutionary movement.
Domino became a global star but stayed true to his hometown, where his fate was initially unknown after Hurricane Katrina struck in August 2005. It turned out that he and his family were rescued by boat from his home, where he lost three pianos and dozens of gold and platinum records, along with other memorabilia.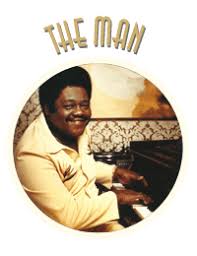 The son of a violin player, Antoine Domino Jr. was born Feb. 26, 1928, to a family that grew to include nine children.
Antoine and Rosemary Domino raised eight children in the same ramshackle neighborhood where he grew up, but they did it in style — in a white mansion, trimmed in pink, yellow and lavender. The front double doors opened into an atrium with chandeliers hanging from the ceiling and ivory dominos set in a white marble floor.
As a youth, he taught himself popular piano styles — ragtime, blues and boogie-woogie — after his cousin left an old upright in the house. Fats Waller and Albert Ammons were early influences.
In 1998, he became the first purely rock 'n' roll musician to be awarded the National Medal for the Arts. But he cited his age and didn't make the trip to the White House to get the medal from President Clinton.
That was typical. Aside from rare appearances in New Orleans, he dodged the spotlight in his later years, refusing to appear in public or even to give interviews.
___
Associated Press writer Hillel Italie in New York City contributed to this story.