Comic book titan Stan Lee has fallen
The comic book titan, Stan Lee, has died on the morning of Monday November 12, 2018. Lee was 95 years old when he died. It became easy, in recent years, to dismiss him as the wisecracking grandpa of the American comic book, a past-his-prime gimmick who cameoed alongside Earth's angst-filled superheroes in the high-grossing Marvel blockbusters of the past decade.
But Stan Lee, who died Monday, was far more than that. It's no stretch to say that he helped redraw the world of American fiction. And he certainly made sure everyone knew it.
In the late 1950s, Lee was assigned to create his own cast of superheroes as a response to DC Comics' newfound success. Together with Jack Kirby, Lee co-created the Fantastic Four, the first heroes of Marvel created by Lee.
Their first heroes had gotten immediate popularity and this was the start of Marvel Comics' booming success. This led Lee and Marvel's illustrators to produce even more characters. With the help of Kirby, they created the Hulk, Iron Man, Thor, and the X-Men. Later on, he co-created Daredevil, Doctor Strange, and Marvel's most successful character Spider-Man.
"
"None of us is all that different from each other. We all want essentially the same things outta life," Lee wrote in the pages of Marvel Comics in February 1980. "So why don't we all stop wasting time hating the 'other' guys. Just look in the mirror, mister — that other guy is you.""
Unlike DC Comics' iconic heroes, many of whom had been destined for greatness as the last sons of doomed planets, Amazon royalty or rightful kings of the sea, the likes of Spider-Man, the Fantastic Four, Iron Man, the Ghost Rider and the Incredible Hulk composed a catalog of human frailties — schmoes who inadvertently, or negligently, wandered into the traffic of destiny.
This was in no small measure due to Lee, who as Marvel's editor-in-chief wrote many of the books himself during comics' "Silver Age" years of the early 1960s. With seemingly boundless energy and a staggering variety of voices, he breathed personality, ambiguity and a common narrative into soon-to-be-beloved characters.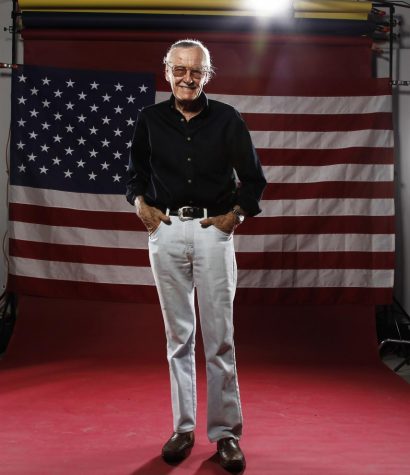 As the years go by, Lee became the face of Marvel. He cameoed in most of the Marvel movies so far, even the ones that came out in the 1980s. Fans loved the cameos mainly because they were comedic based and showed the star of Marvel, everyone loved and looked forward to them.
It's hard to overestimate how groundbreaking this philosophy was in a nation that, with a tone set by production-code Hollywood since the early 1930s, had spent three decades positioning largely unambiguous heroes at the center of its rising mass culture. Add government efforts in the 1950s to demonize comics as the mind-decayers of America's youth, and to push publishers back toward pablum, and you'll have some idea what Lee accomplished at the beginning of the 1960s.
Because, as Stan Lee knew well before America did, we still want our fantastic, unlikely superheroes to be just like us.
Or, more saliently, we want to believe that we can be just like them.Lee was an inspiration to many people.
His works were loved by many and those who were inspired tried to be like him by making their own cast of superheroes or drawing fan art of Lee's own.
About the Contributor
Jared Ross, Journalist
My name is Jared Ross and I am a Junior and is in the Academy of Global Health and Science at Hillsboro High School.
I have earned CPR certificate from...