The Ultimate Fighting Championship -UFC for short- is one of the most professional and successful mixed martial arts organizations in the world. Every sport has its superstar, Tom Brady for American football, Ronaldo for soccer, Kobe, even Tiger Woods for golf. The superstar of the mixed martial arts world is undoubtedly "The Notorious" Conor McGregor.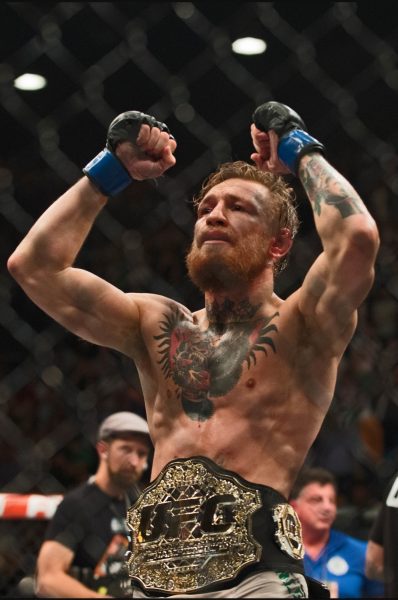 McGregor's last scrap in 2020 against Dustin Poirier left him with a snapped leg and another loss under his belt. After this, McGregor went on hiatus, one year turned into two and now three. There's one question on every fight fan's mind, when will this star make his return to fighting?
According to the UFC website, mixed martial arts is defined as, "Mixed martial arts [MMA] is a full-contact combat sport that allows a wide variety of fighting techniques and skills from a mixture of other combat sports to be used in competition, the rules allow usage of both striking and grappling techniques while standing and on the ground." Mixed martial arts is a controversial field as well, especially in the UFC and even more-so with their recently parted with anti-doping agency (USADA).
Why you may ask? The partnership between the UFC and USADA concluded after a strained relationship caused by McGregor's reintegration into the testing pool, UFC threatened legal action causing USADA to pull out all-together. Does this mean McGregor is coming back? We aren't completely sure yet, but there is a possibility that fans are clinging to. His most recent call-out has been #5 Lightweight contender Michael Chandler in his post-fight interview after knocking Tony Ferguson out cold at UFC 274 in May, "Conor McGregor – you've gotta come back and fight somebody. I am the most entertaining lightweight on the planet… I want you at your biggest, I want you at your baddest, I want you at your best. You and me at 170." Discussions of Chandler v. McGregor have been in the works since then, Conor even seemingly agreeing on TUF 31 to move up to 185, but it is yet to be seen or heard.
Since then, Conor has spoken out about wanting to return to the octagon, and it seems genuine. Many suspect that the Mystic Mac will make his return at UFC 300, but with recent developments from McGregor's coach, John Kavanagh his return will likely be in early summer 2024. McGregor is very active on social media, posting pictures from training within the official UFC gym with current PFL fighter Brendan Loughnane, and even going as far as to caption a photo, "Coming back for my 20th professional MMA KO." along with posting several videos showing off his intense training regimen, McGregor must be getting ready for something.
www.ufc.com/about/sport
Michael Chandler calls out Conor McGregor after earning stunning knockout win at UFC 274 | Sporting News