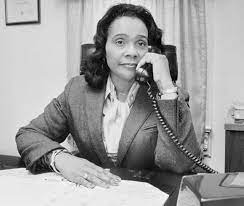 Women you should know: Coretta Scott King
Coretta Scott King is today's Women Black History featured person
Coretta Scott King was a leader of the civil rights movement and an activist. She was also the wife of the civil rights leader, Martin Luther King Jr.
Coretta was born in Marion, Alabama on April 27, 1927. As a child, she enjoyed singing and playing the violin. After graduating in 1945, at Lincoln High School she was the school's valedictorian. After high school, she attended  Antioch College in Yellow Springs, Ohio, where she received her Bachelor of Arts in music and education. In 1953, she married the soon-to-be-famous Martin Luther King Jr. shortly after they moved to Montgomery, Alabama, where he served as a pastor and Coretta served as the pastor's wife.
Her activist career began working alongside her husband during the 1960s – 1970s. While many know her as just Martin Luther King's wife she established her own distinguished career in activism on her own as well. She worked as a public mediator and as a liaison to peace and justice organizations.
After the death of MLK she led her husband's planned march through Memphis to support striking sanitation workers. Coretta also founded the Martin Luther King Jr. Center for Nonviolent Social Change and was the center's president and the chief executive officer. She was also apart of the big fight  for formal recognition of her husband's birthday. Former president Ronald Reagan signed a bill  that marked Martin Luther King Day as a federal holiday.
Coretta Scott King later wrote many books about her life and passed in August of 2005 at 78 years old.
"
Women, if the soul of the nation is to be saved, I believe that you must become its soul.
— Coretta Scott King