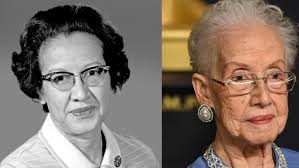 Women you should know: Katherine Johnson
"
Girls are capable of doing everything men are capable of doing. Sometimes they have more imagination than men.
— Katherine Johnson
Katherine Johnson became one of the first African American women to work as a NASA scientist. She became known as a "human computer". She is most famous for using her mathematics skills to figure out the paths for the spacecraft to go around Earth and land on the Moon. Her math played a huge part in sending astronauts to the Moon and back.
Katherine Johnson was born on August 26, 1918, in White Sulphur Springs, WV.  As a young girl, she loved math and was always academically at the top of her class. At the age of 10, she started high school. She began college at 15 and graduated when she was only 18.  After college, she became a teacher, married, and started a family. When Katherine was 34 she heard that NASA was hiring African American women to solve math problems. She applied but didn't get accepted till the next year.
During her time at NASA Katherine asked a lot of questions, and was very involved in her work. She later became a team member who worked on different space projects for NASA. In 1962, the United States decided to send people to the Moon, which involved a lot of work and math problems. That's when Katherine mathematics skills figured out the paths for the spacecraft  to go to the moon, and sending astronauts to the moon and back safely.
Katherine Johnson worked for NASA for more than 30 years. When she retired she enjoyed traveling, playing card games, and spending time with her family and friends. In 2019 she was awarded the Congressional Gold Medal. Her remarkable story became a movie and a novel called "Hidden Figures."  Katherine Johnson lived till she was 101 years old and became a trailblazer for women in stem.
---