Fall sports- Senior nights are right around the corner
Senior Soccer Night Photo Gallery
Fall sports recognition has arrived! At Hillsboro High School, we are holding Senior Nights for our fall sports, which include girls' soccer, volleyball, cross-country, and football. The Senior Night dates for each fall sport are listed below:
"
Girl's soccer- Tuesday, September 20, at 5 PM
Volleyball- Tuesday, September 27, at 5 PM
Football / Cheerleader / Band- Friday, October 28, at 7 PM"
— Fall Senior Nights
The first upcoming Senior Night was all about our girl's soccer team. Coach Troy and the team have worked extremely hard this season with a record of 6-0-3. The girl's soccer team have been pushing to be the greatest, even through hardships, such as the pandemic.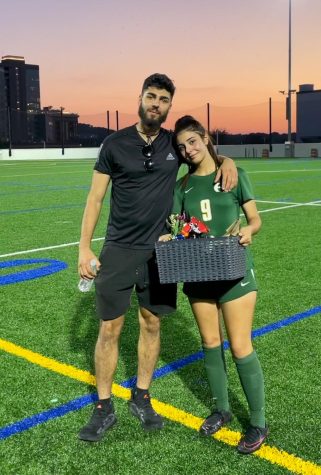 Hillsboro Globe interviewed Coach Troy with his take on his excitement towards senior night. Troy states, "The biggest thing that I'm looking forward to this year with senior night is celebrating this group of girls, they've been through a lot, with the pandemic affecting two of their years in high school and especially with high school sports, we had to change a lot of regulations, and do a lot of different procedures just to accommodate sports, if and when we were allowed to play… but additionally this is the first group of senior girls that also got to have a full year playing on our new facilities… they've been able to help change the culture, help encourage positive team dynamics, and hopefully continue to build towards a culture of winning…"
"Furthermore, the biggest obstacle the team has faced that they've overcome has been "figuring out how I can help a bunch of good, individual girls soccer players that all have a lot of skills, come together as one, cohesive team. We have a lot of talent this year, and a lot of ability, but a lot of the girls have really similar abilities, so trying to work with the team to figure out who works in what situation, and how we can become a better kind of unit has been the biggest challenge, but up to this point in the year we're undefeated, so we're having a really good year."
As well as the coach's input, Hillsboro Globe also interviewed a soccer senior, Dia Abdullah, number nine on her soccer team, and shared her feelings about her upcoming Senior Night. "I'm very excited to play in front of my family today, especially my oldest brother, who's been training me. Without him, I wouldn't be as skilled as I am today, even if I've only been playing for a couple of years, he's the one who I've been looking up to when it comes to soccer and he's the reason why I push myself to be better and work harder, and so this game is all dedicated to him."
We looked forward to seeing the girl's soccer team gain another win and seeing the seniors being recognized as the hard-working and determined group they are.