CBBB: Grants Offered to Support Black Businesses
Hillsboro Globe Reporter – Morgan Graham, reporter
August 11, 2022
"
Although many other small Black businesses aren't able to be helped by the CBBB, there are ways we can champion and invest in small black businesses!"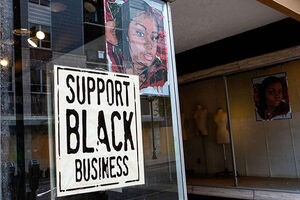 What's the CBBB?
The Coalition to Back Black Businesses (CBBB) began as a recovery act from suffering financially due to the COVID-19 pandemic to help support small black business owners and the communities they serve and are apart of.
"Small businesses across America are struggling to keep their dreams alive, and Black-owned small businesses have been hit especially hard. Black business owners are more likely to report difficulty obtaining loans, express fears about permanently closing, and predict declining revenues in the coming year as a result of the COVID-19 pandemic." Several Black businesses have suffered greatly, not only because of the pandemic, but the lack of financial relief the government has offered to them.
The CBBB's Purpose
In an effort to relieve these business' and their owners of their worries, many organizations, such as The Coalition, National Business League, U.S. Black Chambers of Commerce, and others, have come together in order to provide these smaller black businesses with grants. "From 2020 through 2023, we will distribute $5,000 grants to applicants each fall, followed by mentorship and training, and select few will receive $25,000 enhancement grants the following summer. We hope these grants can provide some assistance to the Black business community to emerge from this crisis stronger than ever." Despite the fact that not all Black businesses can be offered or able to receive a grant, it is a step in the right direction to not only alleviate the businesses themselves, but also the communities that rely on them.
How Can You Help?
Although many other small Black businesses aren't able to be helped by the CBBB, there are ways we can champion and invest in small black businesses! Doing things such as simply buying a product from the business, referring the business to a friend, or family member, and partnering with Black vendors are things you as an individual can do to show support. Also re-sharing and reposting black business owners and brands online on social media sites. If you are interested in supporting small Black owned businesses, a few Black owned businesses in Nashville you can go to providing services are Fat Boys BBQ, The Tasty Wheel, The Trenches Gallery, and Rolled4ever.