Credit Union
On February 15, Hillsboro Highschool re-opened its Credit Union. Hillsboro's Credit Union has been open for seven years and is one of the only Unions located within a metro school. It is entirely student run, and according to the supervisors, it is a great opportunity for high school students.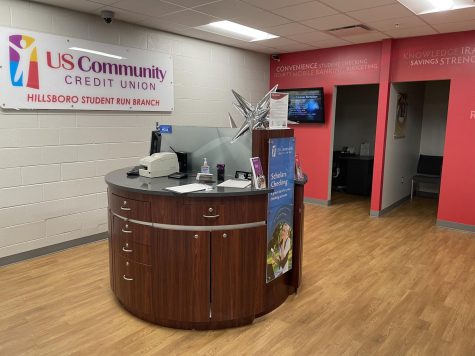 A Credit Union is similar to a bank, but in many ways it's better than an actual bank. When you're a partner of a Union, you are also a member and an owner of shares within the Union. Credit Unions offer opportunities to build up good, trustworthy relationships within the bank, while also remaining a professional organization. In addition to all of that, the Union allows students to easily get financial help when they need it. 
Being a part of the school's Credit Union is important because it teaches students valuable life and finance skills. By making the Union at Hillsboro student run, it allows students to learn responsibility with money and money management.  It also helps students practice customer service in forms of greeting customers and respecting them in a professional manner. By working in and being a part of the Credit Union, you gain incredible experience in finance and business. 
With the opening of Hillsboro High Schools new building  Hillsboro's Credit Union is connected to other Credit Union branches in Donelson, Bell Road, Hermitage and Mount Juliet. Students with experience in a school Credit Union are likely to get a fulltime working job at one of these outside Unions. As a matter of fact, Hillsboro students are given the opportunity to work there during Fall, Spring and Winter breaks. Overall, participating in the Credit Union is beneficial to everyone.  
"A real live, working bank," – Ms. Strasinger.