MLK/Pearl Cohn's David Wesley Schilling is the 76th winner of the Hume Award.
The 76th winner of Metro Nashville Public School's prestigious Hume Award was named today at a luncheon hosted by the Rotary Club at The Wildhorse Saloon in Downtown Nashville.
The award was won by David Wesley Schilling, the long-snapper from Pearl-Cohn High School. Schilling attends MLK, Jr Magnet School and plays football for the Firebirds. He will be going to Vanderbilt next year.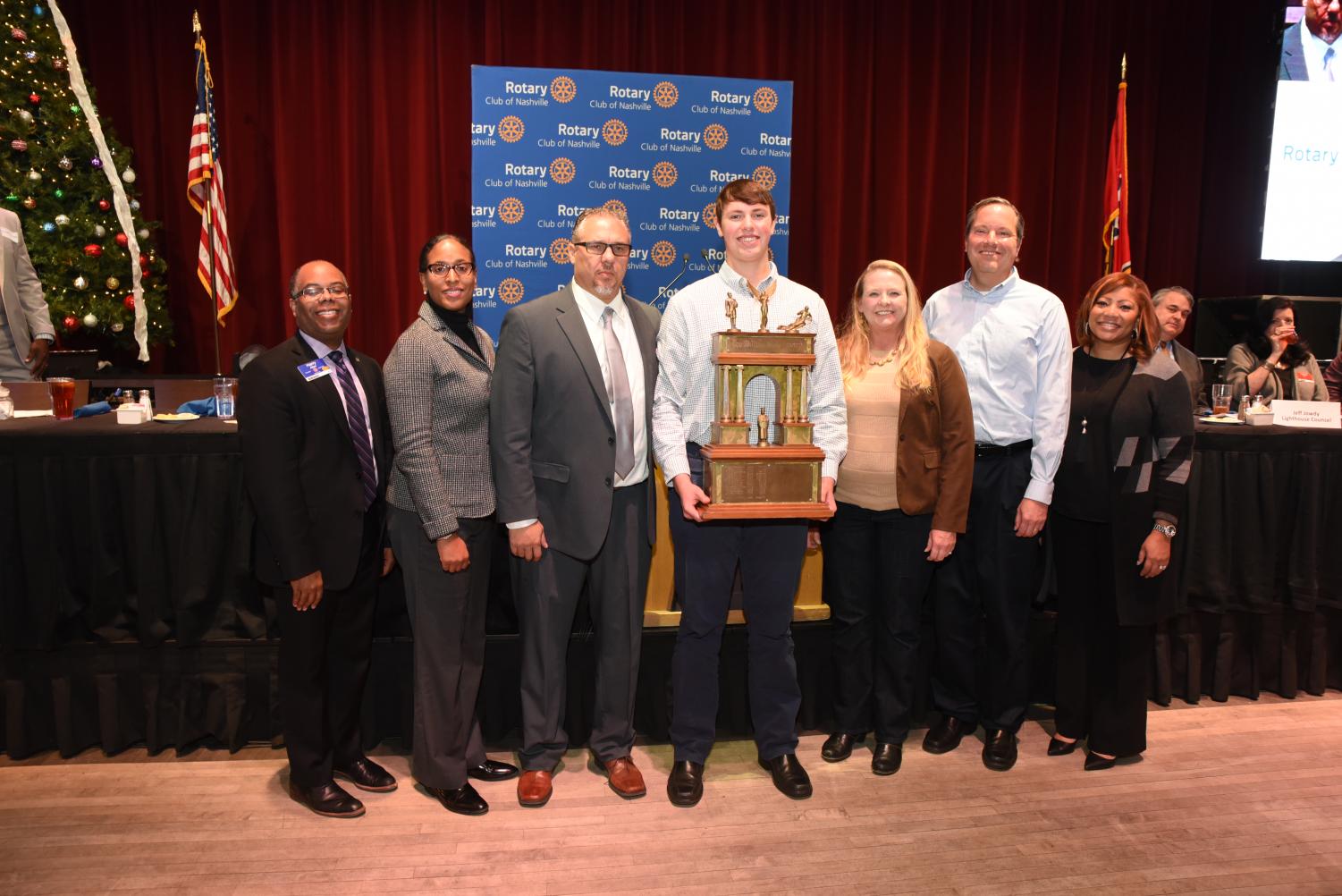 The Hume Award recognizes the most outstanding football player in Metro School in the areas of sportsmanship, scholarship, and football ability. While attending a football game at West High School, Mr. William Hume, a prominent Nashville attorney and cChairman of the City Board of Education, remarked to Mr. W. A. Bass,  then Superintendent of Nashville City Schools, that some recognition should be given to the fine young men participating in the game of football in the Nashville schools.
At that time, two school districts existed in Davidson County – city schools and county schools. When all schools merged into one district following the incorporation of Nashville, the county schools were included in the list, making the Hume Award the longest and most established student-athlete award in Tennessee.
Each Metro School nominates one player, and then the nominees are reviewed by a committee composed of school administrators, football officials, and area sportswriters. Five finalists were named before today's ceremony. Joining Schilling as a finalist were Michael Reese from Cane Ridge, Avont Burrus from Hillsboro, Tyler Fletcher from East Nashville, and Markelle Beasley from Hunters Lane.
The original trophy is rotated to the winning school each year and sits on display till the ceremony the following year.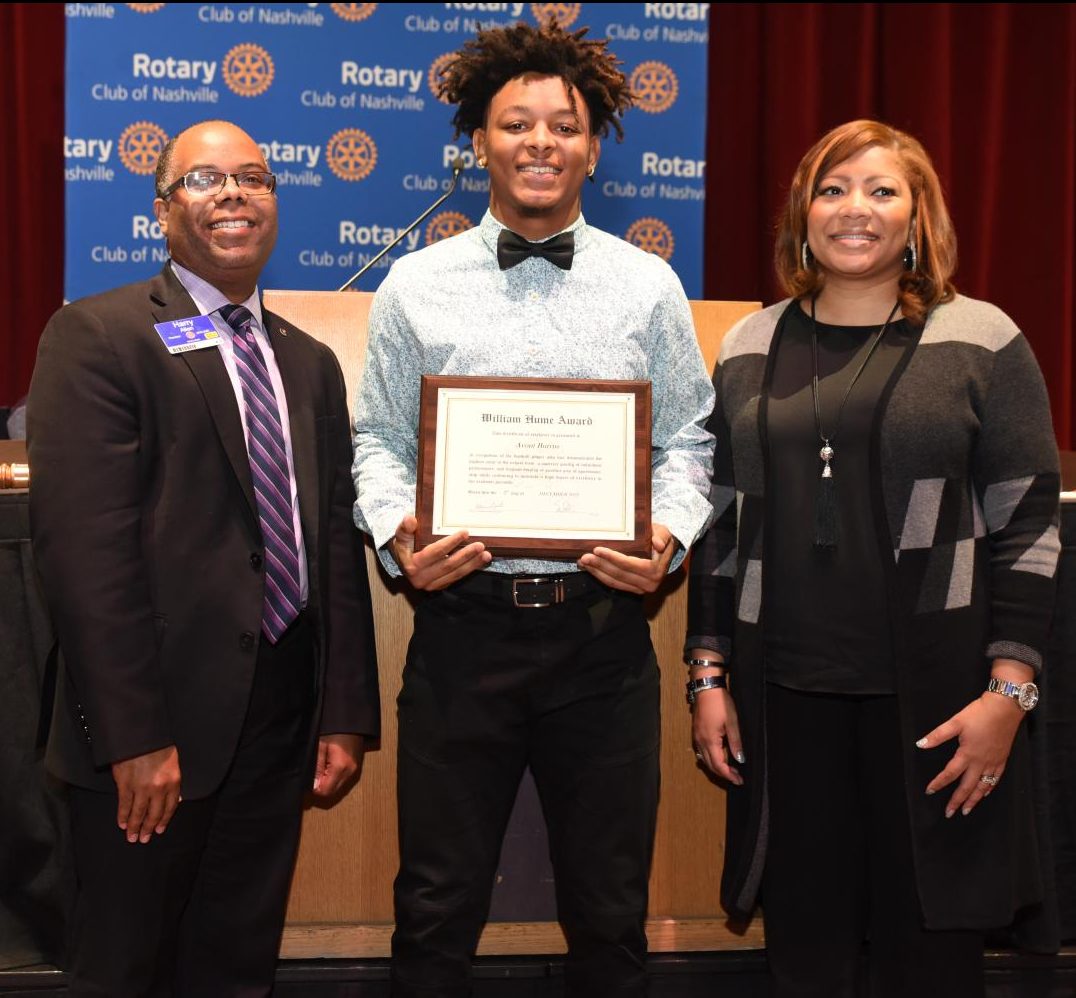 The award presentation ceremony rotates annually among the participating community service clubs of Nashville, with the Kiwanis Club of Nashville hosting the 2016 program on Friday, December 2 at the Patron Platinum Club at Bridgestone Arena.
The other Nominees were Carson Buchanan, Antioch; Tyrell Wilson, Glencliff; Anthony Alexander-Metin Tracy, Hillwood/Hume Fogg; Zachery Drake, Maplewood; Jeremiah Mathews, McGavock; Salmaan Aqeel  Walker, Overton; Andrew Covington, Stratford; and Tywan Buggs, Whites Creek.
By the Numbers:
Hillsboro has only had three winners of the Hume Award including last year's winner, Joseph Honeysucker. 2018-19 – Joseph Honey Sucker
David Lee Parker (1991-92)
Timothy Gray (2001-2002)
Current schools with most awardees from most to least:
Overton 15….East 7….Hunters Lane  6….Hillwood 5….Maplewood 5…Antioch 3….Glencliff 3…Hillsboro 3….Pearl Cohn 3….Stratford 3….McGavock 2…Cane Ridge 1….MLK/Pearl Cohn 1….Whites Creek 1
Schools now closed with most to least:
Cohn 6…Howard 5….West 4….North 3….Madison 2….Litton 1….Goodlettsville 1
Hume Award Recipients
| | | |
| --- | --- | --- |
| Name of Student | School Year | School Name |
| Eddie Lawrence | 1944-45 | West |
| J. B. Proctor | 1945-46 | Cohn |
| Billy Lawrence | 1946-47 | West |
| Dale Beck | 1947-48 | Howard |
| Dale Beck | 1948-49 | Howard |
| Roy Herald | 1949-50 | Howard |
| Odell Binkley | 1950-51 | North |
| Don Rucker | 1951-52 | Cohn |
| Don Rucker | 1952-53 | Cohn |
| Ralph M. Greenbaum | 1953-54 | West |
| Billy Smith | 1954-55 | East |
| Thurman Leo Smith | 1955-56 | Cohn |
| Thomas E. Wells | 1956-57 | Cohn |
| Charles Rice | 1957-58 | West |
| Raymond Mitchell | 1958-59 | Howard |
| Billy Whittaker | 1959-60 | North |
| Kenneth Goad | 1960-61 | East |
| Danny Hale | 1961-62 | North |
| Sam O'Neal | 1962-63 | East |
| Richard McAbee | 1963-64 | Howard |
| Eddie Niebruegge | 1964-65 | Goodlettsville |
| Alex Beavers | 1965-66 | Madison |
| Stuart Byrom | 1966-67 | Litton |
| Jackie Carver | 1967-68 | East |
| Homer Stinson | 1968-69 | Cohn |
| David Campbell | 1969-70 | Maplewood |
| Mike Winchester | 1970-71 | Madison |
| Richard Clippard | 1971-72 | Hillwood |
| Brice Shelton | 1972-73 | Antioch |
| James Threalkill | 1973-74 | East |
| Jack Chandler | 1974-75 | Overton |
| Tony Glover | 1975-76 | Antioch |
| E. J. Junior | 1976-77 | Maplewood |
| Terry Corn | 1977-78 | Overton |
| Chris Kennedy | 1978-79 | Overton |
| Gary Kimball | 1979-80 | Overton |
| Jeff Spain | 1980-81 | Glencliff |
| Mike Beckham | 1981-82 | Overton |
| Kevin Kalen | 1982-83 | McGavock |
| Keith Victory | 1983-84 | Overton |
| Ronald Robinson | 1984-85 | Stratford |
| Rusty Cole | 1985-86 | Stratford |
| Michael Craig Dunn | 1986-87 | Antioch |
| Bryan Link | 1987-88 | Hillwood |
| Tracy A. Majors | 1987-88 | Glencliff |
| Bryan Link | 1988-89 | Hillwood |
| Rodney Burford | 1989-90 | Hunters Lane |
| Michael Jason Pettus | 1990-91 | Hillwood |
| David Lee Parker | 1991-92 | Hillsboro |
| Bobby J. Griggs, Jr. | 1992-93 | Overton |
| Rayburn Hall | 1993-94 | Stratford |
| Reginald Grimes | 1994-95 | Hunters Lane |
| Jason Hamilton | 1994-95 | Overton |
| Jahi J. Henley | 1995-96 | Hunters Lane |
| Adam L. Kibler | 1995-96 | McGavock |
| Maurice Fitzgerald | 1996-97 | Pearl-Cohn |
| Nate Daniel | 1997-98 | Overton |
| Leonard Mays | 1998-99 | Maplewood |
| C. J. Johnson | 1999-00 | Glencliff |
| Brandon Lee Curry | 2000-01 | Hunters Lane |
| Timothy Gray | 2001-02 | Hillsboro |
| Jacob Coleman | 2002-03 | Overton |
| Jonathan Hathaway | 2003-04 | Pearl-Cohn |
| Brenard K. Wilson II | 2004-05 | Hunters Lane |
| Jared C. Clodfelter | 2005-06 | Hillwood |
| Jamie D. Graham | 2006-07 | Whites Creek |
| Marquez D. Cantrell | 2007-08 | Hunters Lane |
| Bryan John Hartzell | 2008-09 | Overton |
| James R. Stone | 2009-10 | Maplewood |
| Andrew C. Montgomery | 2010-11 | Overton |
| Dustin M. Binkley | 2011-12 | Maplewood |
| Jeffrey Brandon Orr | 2012-13 | Overton |
| Kevin D. Scott | 2013-14 | Overton |
| Ke'shawn L. Vaughn | 2014-15 | Pearl-Cohn |
| Devarius Quantez Cortner | 2015-16 | East Nashville |
| D.J. Thorpe | 2016-17 | Cane Ridge |
| Brian Darnell Thompson | 2017-18 | East Nashville |
| Jospeph Honeysucker | 2018-19 | Hillsboro |
| David Wesley Schilling | 2019-20 | MLK/Pearl Cohn |