Jacob Phillips and Ke'Shawn Vaughn, Hume nominees, are this week's featured Metro Boomin' athletes to watch
Jackson's 2 Pick 6s power Austin Peay past Mercer, 48-34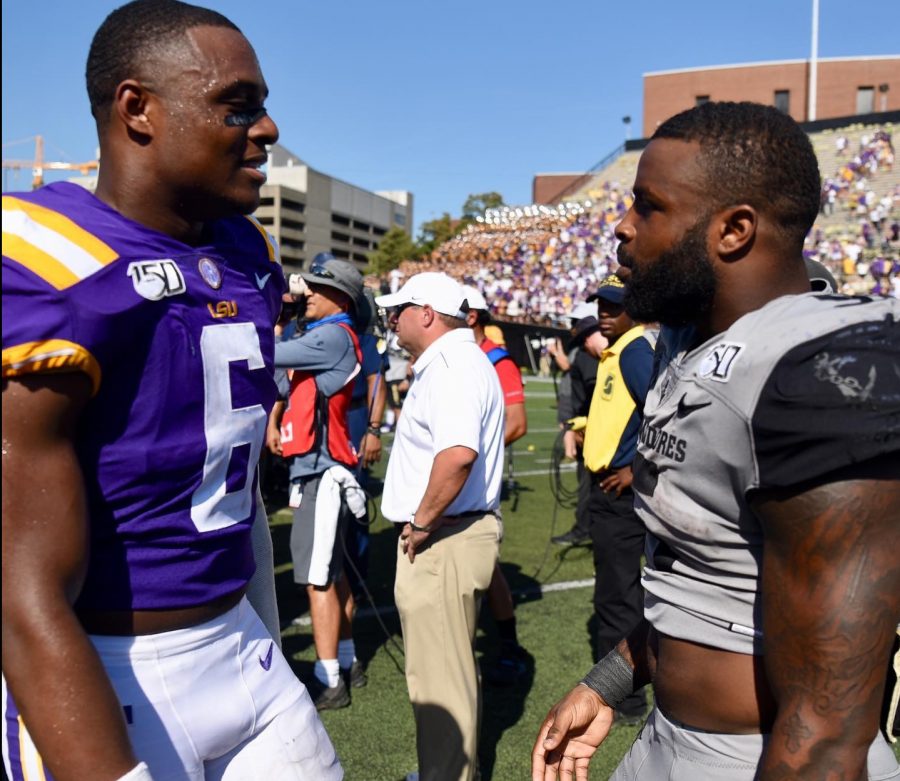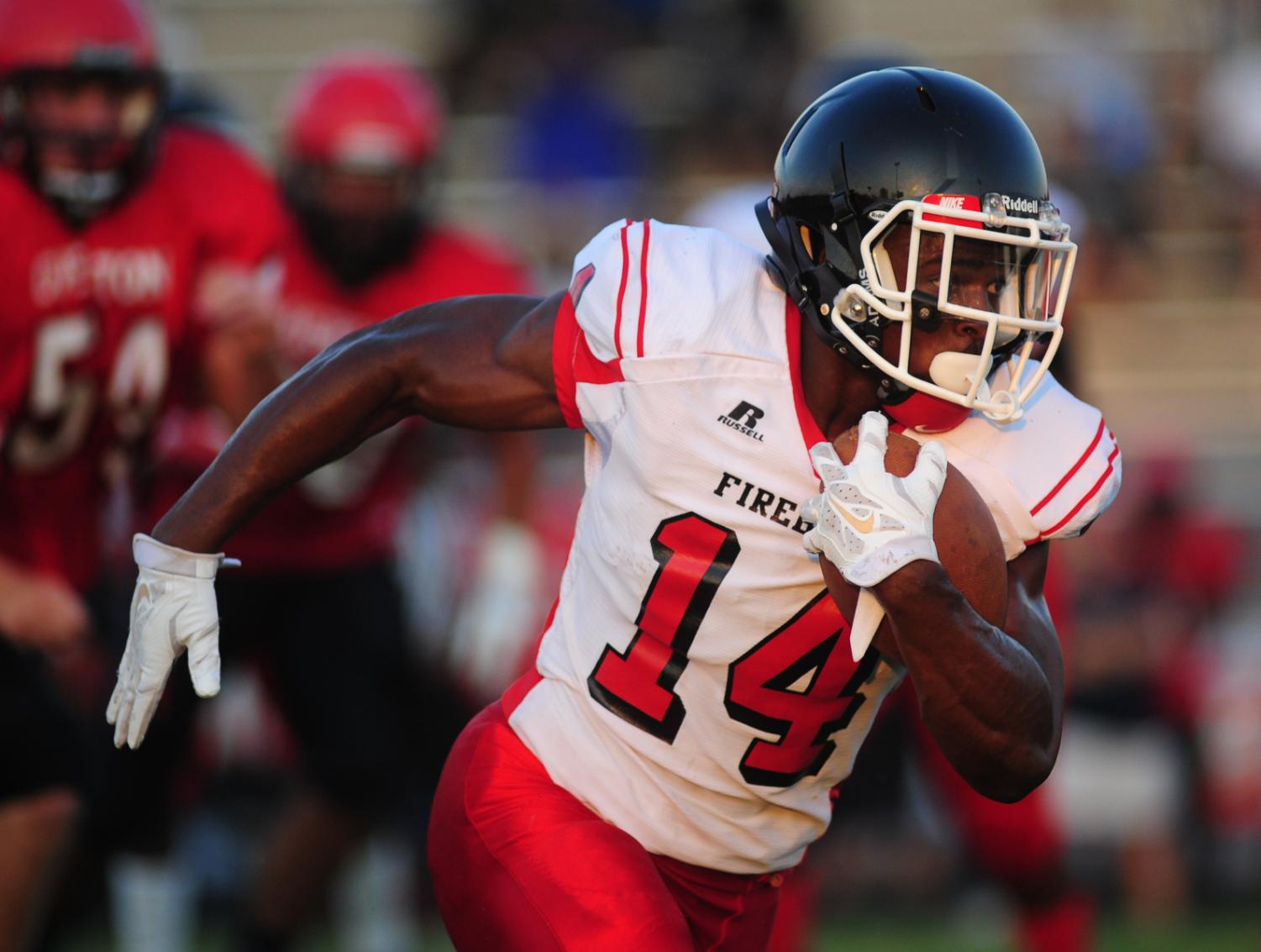 Watching Metro Boomin' players who take the field or court as a representative of a college or university is the bonus for all who enjoy high school sports.
Jacob Phillips, a graduate of East Nashville High School (2017 Hume nominee) and Ke' Shawn Vaughn, (2015 Hume winner) and graduate of Pearl Cohn High School, face each other in what is sure to be a fun game Saturday at Vanderbilt Stadium when LSU visits Venaderbilt in a SEC matchup.
Phillips is a defensive lineman for LSU and Vaughn is a running back for Vanderbilt. The kickoff was an early 11:00 AM start to the SEC's 4th week of the 2019 season.
Both athletes continued their exceptional high school careers right on in to collegians both  are currently ranked as possible 2020 NFL draftees.
KE'SHAWN VAUGHN'S HIGH SCHOOL CAREER
Ke'Shawn Vaughn's stats from high school are worth revisiting. Vaughn accrued 5,680 yards and 91 touchdowns as a high schooler. He led his team to a state championship berth and won just about every award a high school football player could win. He is a Hume Award recipient, a National Gatorade Player of the Year, a Mr. Football recipient and racked up more regional and state MVP awards than one could list.
Signing first with the Fighting Illini and then transferring to Vanderbilt, Vaughn has had similar success.
VAUGHN'S COLLEGE NOTABLES OF THE LAST TWO YEARS
Current stats….9/21/19
| | | | | | | | | | | |
| --- | --- | --- | --- | --- | --- | --- | --- | --- | --- | --- |
| 0E | KE'SHAWN VAUGHN | GP 3 | CA 52 | Yards Gain 282 | Yards loss 22 | Net yards 260 | Avg. 5.00 | Tbs 3 | Long 52 | APG  86.67 |
2018 & 2019 awards include: As a Senior (2019)…Maxwell Award watch list…Doak Walker Award watch list…Preseason All-American Second Team All-Purpose (Athlon Sports)…Preseason All-SEC First Team (Athlon Sports)…Preseason All-SEC First Team (Lindy's)….Preseason All-SEC Second Team (SEC Media Days ballot)As a Redshirt Junior (2018) 12 games played….1,244 yards rushing and 12 touchdowns on 157 carries….Second-most single-season rushing yards in Vanderbilt history…103.7 rushing yards/game….Second among SEC players….95.9 rushing yards/game in conference play…671 yards and six touchdowns in seven games…13 receptions for 170 yards and two touchdowns, including 75-yard scoring catch..7.9 yards/rush (min. 50 attempts)….First among SEC players…10 rushes of 40 or more yards….First among SEC players….Six rushes of 60 or more yards…First among SEC players…Five 100-yard rushing performances….243 yards rushing and two touchdowns on 13 carries vs. Baylor (Texas Bowl)…Second-most single-game rushing yards in Vanderbilt history…69-, 68- and 68-yard rushes…182 rushing yards, one touchdown at Missouri…Most rushing yards ever for a Commodore vs. SEC opponent…172 rushing yards, three touchdowns at Arkansas…127 rushing yards vs. Ole Miss…75-yard touchdown catch vs. Florida…146 yards rushing, one touchdown vs. Tennessee State.
"
There are more thirty MNPS graduates taking the field in Tennessee alone on Saturday"
— HILLSBORO GLOBE SPORTS DESK
There are more thirty MNPS graduates taking the field in Tennessee alone on Saturday, but there is only one LSU  player from A Metro schools who knows first hand what it will take to try and stop Vaughn.
Jacob Phillips – LSU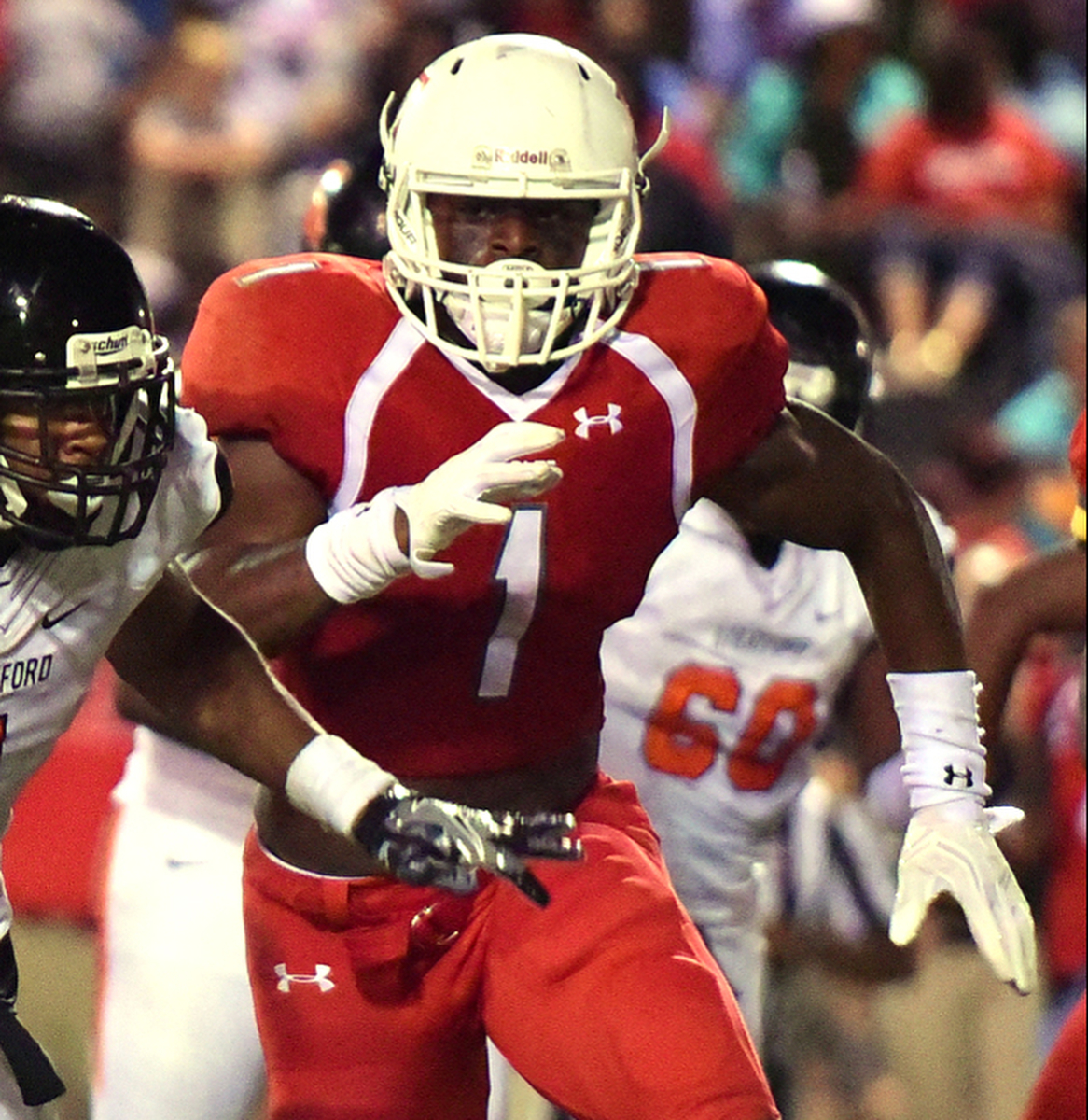 Jacob Phillips is that person. The two met in regular season matches in 2013 & 2014. Phillips graduated from East Nashville in 2017 and earned his own lengthy list of awards.
Like Vaughn, he was a Mr. Football recipient. He surpassed 200 tackles  as a prep and was honored to attend the US Army All American Bowl.
Phillips also accrued four interceptions and a fumble recovery in 20 of his 44 high school games.
Defense
Jacob Phillips' Career Highs
Tackles: 13 vs. Louisiana Tech, 2018
Tackles for Loss: 1.5 vs. Louisiana Tech, 2018
Sacks: 1.0 vs. Rice, 2018
Interceptions: 1 vs. Miami, 2018
Most importantly, both Metro Boomin' graduates are on track to graduate from their respect schools, with Vaughn returning for his fifth year eligibility opting not to enter the 2019 NFL Draft.
Tackles
Sacks
Interceptions
Fumbles
Ast
Solo
Total
Sacks
Yds
PD
INT
Yds
Long
TD
FF
Rec
TD
2017
10
8
18
0
0
1
0
0
0
0
0
0
0
2018
55
32
87
1
6
3
1
45
45
1
0
0
0
2019
13
12
25
0
0
1
0
0
0
0
1
0
0
Total
78
52
130
1
6
5
1
45
45
1
1
0
0
HIGH SCHOOL
One of the nation's top inside linebackers by 247Sports, Scout and Rivals … Rated as a five-star recruit according to Rivals and four-star player by ESPN, Scout and 247Sports … Ranked in the state of Tennessee as the No. 3 player by Rivals and No. 4 by 247Sports … Nationally ranked as No. 29 by Rivals and No. 46 by 247Sports … Surpassed 200 career tackles through two seasons of varsity football at East Nashville Magnet High School … Averaged 12.3 tackles per game in 2016 and finished as the team leader in tackles for loss with seven … Returned an interception and fumble for a touchdown in the same game during his senior season … For his career, finished with four interceptions and a fumble recovery in 20 games … Selected to play in the U.S. Army All-American Bowl … Earned Tennessee's Mr. Football Award in Class 3A to wrap up his high school career … Coached by Brian Waite.
---
WEEK TWO METRO BOOMIN PLAYER TO WATCH
Pearl Cohn's Jimmyrious Parker
Awards and Honors:
AD's Honor Roll (F18)
2018 (Freshman): Speedy receiver saw action in seven games… had a 19-yard rushing touchdown at Morehead State (Sept. 15)… returned seven kicks for 141 yards on the year… returned a season-high four kicks for 85 yards, with a long of 33 yards.
High School: Dynamic offensive weapon who helped lead Pearl-Cohn to the state semifinals in 2017… eclipsed 1,600 yards of offense and scored 20 touchdowns as a senior… had more than 800 yards rushing and receiving… also had 629 kick return yards… Class 3A finalist for the Tennessee Titans Mr. Football Award… accumulated more than 1,200 yards of offense and 14 touchdowns as a junior… scored a 91-yard touchdown in the state final as a sophomore… ranked a two-star prospect by 247sports.com.
AUSTIN PEAY (2-1) -VS- MERCER (2-1 , 1-0)
| Team | | | | | |
| --- | --- | --- | --- | --- | --- |
| | 7 | 6 | 14 | 21 | 48 |
| | 10 | 3 | 7 | 14 | 34 |
MACON, Ga. (AP) — Kentel Williams ran for two touchdowns and Kordell Jackson returned two interceptions for touchdowns as Austin Peay spoiled Mercer's home opener, 48-34 on Saturday night.
Austin Peay (2-1) has now won two straight under first-year coach Mark Hudspeth.
Each team kicked two first-half field goals and the game was deadlocked at intermission, 13-13.
JaVaughn Craig, who finished 18 of 32 for 252 yards, opened the second with a five-yard strike to Baniko Henry to put the
Governors on top for good, 20-13 and Jackson pushed to 27-13 with his first pick six, this one from 29 yards out.
Robert Riddle got the Bears within a touchdown with a 4-yard pass to Chris Ellington to cut the Mercer (2-1) deficit to 27-20, but Austin Peay opened the fourth quarter with a touchdown run by Williams from three-yards out and a 69-yard pick six by Jackson that pushed the lead to 41-20.
Mercer's Riddle finished 29 of 47 for 287 yards and four touchdowns, but his two interceptions resulted in 14 Austin Peay points.