The 2018 Hume trophy is awarded December 6, 2018
This year, the Nashville Civilian Club sponsored the luncheon and presented the trophy.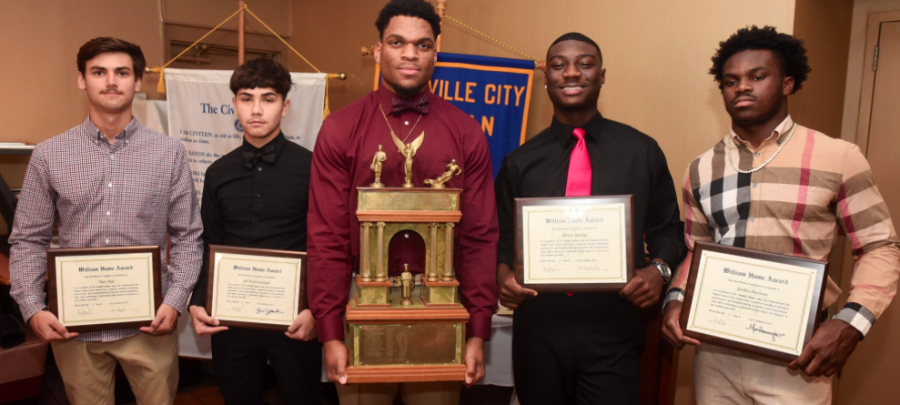 NASHVILLE, Tenn – Today following a luncheon at Swett's Restaurant hosted by the Nashville Civilian Club, Joseph Honeysucker from Hillsboro High school was named as the 2018 recipient of the prestigious Hume Award. Honeysucker recently committed to Memphis University to play football.
The Hume Award recognizes the most outstanding football player in Metro School in the areas of sportsmanship, scholarship, and football ability. The Hume Award has been given since 1944.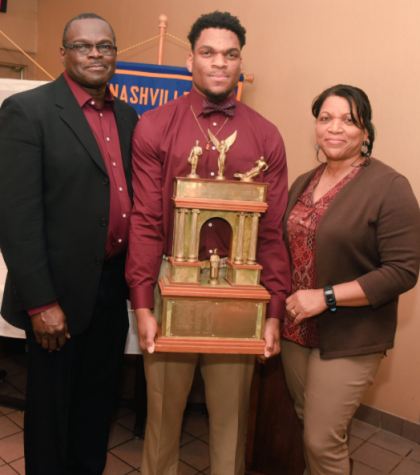 Honeysucker expressed his shock and surprise after winning and having the trophy presented. "I was super-surprised and humbled, even shocked that I was the winner because I know of all the candidates and they are super deserving. To be listed as the 75 name inscribed on the trophy along with other heavy hitters like Coach Reggie Grimes and Coach Jamie Stewart is such an honor. I mean,  to be listed forever is a great honor."
Each Metro School nominates one player, and then the nominees are reviewed by a committee composed of school administrators, football officials, and area sportswriters. There is always a sense of anticipation before the announcement because though the committee member knows who he or she voted for during the finalist selection, no one on the committee knows who their fellow committee members voted.
Five finalists were named before today's ceremony. Joining Honeysucker as a finalist were Devon Starling, Cane Ridge; Hale Page, Hillwood; Sid Souksangouane, Hunters Lane, and Jayden Harrison, Pearl-Cohn/MLK.
The other nominees were Nestor Corea, Antioch; Rondarius DeJuan Gregory, East Nashville; Ricardo Jose Ruiz Machado, Glencliff; Clinton B. Dowty III, Maplewood; Eduardo Villalobos, McGavock; Aran Mohamed-Ali, Overton; Calvin Farmer, Jr. Stratford, and Franklin Russell Griggs, Whites Creek.
The Hume Trophy is not a hollow trophy that is easily lifted by anyone, it is a solid maple trophy with solid brass decorations. Honeysucker stated, "the weight of the trophy really matches the weight of the award. I feel a responsibility to uphold the standards that began the award."