The Burros get first home win of season against Stratford, 46 -14
Don't want to wait in those long ticket lines?  Purchase your tickets online and redeem at a special gate for online ticket sales @ http://gofan.co/app/events/8548
Jacob Frazier Scores 4 TDs and makes Fox17's Overtime Plays of the Week
Click here to see highlight clip

---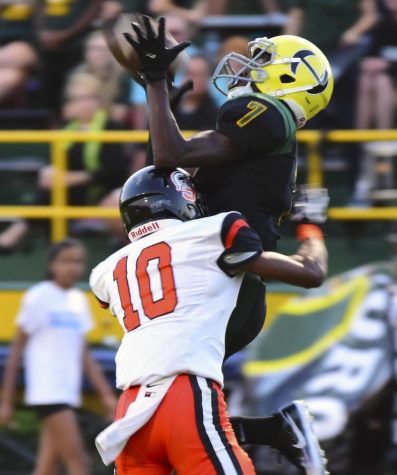 The Hillsboro's Burros picked up their first win against their first MNPS non-conference match-up Friday winning 46-14 against the Stratford Spartans.
It was an interesting coaching match-up pitting former Stratford head coach now current Maurice Fitzgerald against his former defensive coordinator of two years, Jerrell Cogman.
Stratford's Rod Reed (#10) opened the game with Hillsboro second in two games kickoff return to the one yard line that set the Spartans up for a quick touchdown that hauntingly flashed back to the opening play of the season in the previous game against Brentwood Academy. Reed has four kickoff returns for 100 yards, averaging 25.2 yards a carry.
However, the Burros quickly regained their composure and were able to erase the 7 point deficit by answering the Spartans early score with 46 points. It would be late in the 4th before Stratford scored the second of its two touchdowns earned for the evening.
Jacob Frazier had a stellar evening scoring four touchdowns for the evening and rushing for 114 in 13 carries averaging 8.8 yards. Darius Smith, quarterback for the Burros, would follow up with his own two touchdowns rushing for 59 yards in 9 carries. Smith also passed  for 106 yard in 7 completions out 16 attempts, earning a one touchdown and one interception.
Defensively, Joseph Honeysucker, TJ Neal and Mario Goodness continue to be top producers accumulating 14 solo tackles and 18 assisted tackles in the games against Stratford.
September 1st, Hillsboro will host the Gallatin Greenware in its first region game of the year. It will be an important matchup as Gallatin enters the matchup 2-0 having just routed both Springfield and Station Camp in decisive wins to open their season.
As for Hillsboro, it remains to be determined how focused they will be from the start of the game. Both opening first quarters of the first two games have led to less than desirable play which left the team having to answer a deficit of points instead of controlling the game from the start.
The matchup between Gallatin and Beech are unquestionably 2 of the most important regional game the Burros will play this season.
Next up:
When: Friday, September 1
Where: Home
Who: Gallatin at Hillsboro
When: 7:00 pm Tailgating begins at 6:00
Don't want to wait in those long ticket lines?  Purchase your tickets online and redeem at a special gate for online ticket sales @ http://gofan.co/app/events/8548
---
Box Score
#2 runs for 2 yards. Touchdown! (Point after kick by #18 good)

#9 Jacob Frazier runs for 11 yards. Touchdown! (Two point conversion run by #22 Jeremiah Edwards no good)

#9 Jacob Frazier runs for 31 yards. Touchdown! (Two point conversion pass by #15 Darius Smith to #7 Tre Dickerson good)

#15 Darius Smith runs for 2 yar

#9 Jacob Frazier runs for 1 yards. Touchdown! (Two point conversion pass by #15 Darius Smith to Team no good)

#15 Darius Smith runs for 14 yards. Touchdown! (Two point conversion run by #9 Jacob Frazier no good)

#9 Jacob Frazier runs for 10 yards. Touchdown! (Two point conversion pass by #12 Chance Williams to #1 Gyasai Mattison good)

#12 Jalon Macon pass complete to #7 Tre Dickerson for 12 yards. Touchdown! (Two point conversion run by #15 Darius Smith no good)

#5 runs for 3 yards. Touchdown! (Point after kick by #18 good)
Completions – Attempts 5 – 14 8 – 17
Touchdowns – Interceptions 0 – 0 1 – 1
Receiving Completions 5 8
Yards per Catch 16.6 16.3
Penalties – Yards 11 – 100 4 – 20
Fumbles – Lost 2 – 3 1 – 0
Punting Attempts – Average Distance 4 – 30.0 1 – 30.0
Defensive Sacks – Yards 2 – -73 2 – 16
Time of Possession 00:24:00 00:24:00
First Downs – Rushing 3 12
First Downs – Passing 2 5
First Downs – Penalties 0 4
Third Down Conversions/Attempts 1/10 (10.0%) 2/8 (25.0%)
Fourth Down Conversions/Attempts 2/3 (66.7%) 4/5 (80.0%)
KICKOFFRETURNS – STRATFORD
KICKOFFRETURNS – HILLSBORO
Fox17 Sports Nashville, Top Spot, Plays of the Week