No Bull: Preds Shut Out Oilers, Sweep Alberta Back-to-Back
P.K. Subban Records First Shorthanded Goal, Saros makes 31 saves as Predators blank Oilers 3-0
EDMONTON, Alberta —Get out the brooms, it may very well be a year of sweeps as the Nashville Predators are off to a great start sweeping Alberta – no bull.
P.K. Subban earns his first recorded shorthanded goal and Juuse Saros stopped all 31 shots he face on Nashville's recent road trip to Alberta where the Predators shut out the Edmundton Oilers, 3-0 on Saturday and the Preds swept the Calgary Flames on Friday.
The back-to-back sweep of Canadian team in Alberta not only earned the Preds their  fifth consecutive victory overall,  their 13th-straight triumph against the Oilers but also forced Head Coach peter Laviolette to fulfill a coaching bet made with the players if they did win back to back.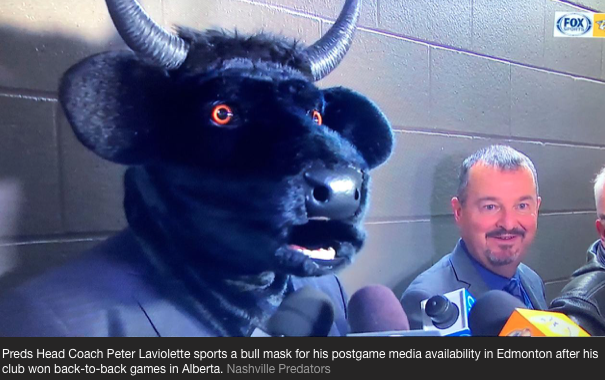 Predator fans might remember the coaching staff lost a similar bet last year and appeared on the bench in comical plaid suits.
Nashville head coach Peter Laviolette did the entire postgame interview while wearing a full bull mask, something he had promised his team he would do if the Preds swept both of their games against Alberta teams over the last couple days.
"It was going to be a tough trip, so we threw it out to the players and they got to choose the back end of the challenge, so we're honoring the deal," Subban said. "I've said it before, Lavi is an amazing person and a fun person to work with every day," Subban said of his coach. "Good on him to hold up his end of the bet. For us as a team, it's an 82-game season, and it can be a long season. But when you're coming on the road on a back-to-back with a 5-1-0 record, it's a little extra motivation and we're having some fun, but good on him."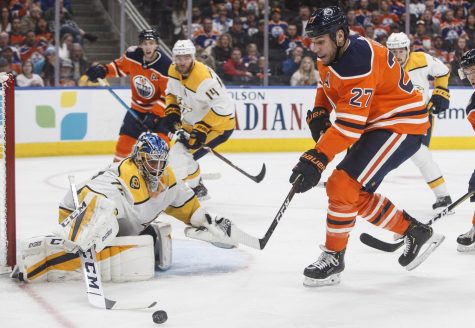 GAME WRAP UP
The Predators have  scored three or more goals in the fifth consecutive game. In addition to amping up the scoring, the Preds had to put forth a solid defensive effort to back up Saros and Rinne.
Juuse Saros and the Nashville Predators found a way to shut down Connor McDavid and the Edmonton Oilers.
"We'll count our blessings," Subban said of holding McDavid at bay. "He's an explosive player… What else can you say about him? All you have to do is just watch him out there. He's so fast and he makes quick plays but I thought we [were able to manage him]."  "We knew before the game they have lots of talent, so we tried to be solid in the defensive zone," Saros said. "We were today, and our penalty kill was great today, too."
NHL
Scoring
P.K. Subban, Viktor Arvidsson and Roman Josi scored for the Predators, who are a perfect 4-0-0 on the road and have won seven of eight games this season. Mattias Ekholm had a pair of assists.
In the second period, Subban scored on his first recorded shorthanded,  2-on-1 rush;  The defenseman fired a low writer far side for the first shorthanded goal of his career, and things finally got going for the visitors."People talk about our ability to jump in the rush and generate offence, but we take pride in trying to make it as easy as we can on our goaltenders," Subban said. "It's tough to play against us when we're moving our feet getting back to pucks."
The Predators made it 2-0 about 90 seconds later after a nice passing play set up Arvidsson, who slipped a wrist shot past Talbot.
Josi put the game away in the final minute with an empty-net goal.
Saros made 31 saves in the shutout and the Predators ran their winning streak to five games with a 3-0 victory over the Oilers on Saturday night.
NHL
"We knew before the game they had lots of talent so we had to be solid in the defensive zone," said Saros, who is unbeaten in four game this season and got the call with Pekke Rinne out with an injury. "I think we were that today and our penalty kill was really great, too."
Takeaways
Oilers had a three-game winning streak halted.
It was the first of three games between the teams this season, with the Predators coming into the contest with 12 straight wins over the Oilers.
Predators goalie Pekka Rinne also suffered an injury in his team's game on Friday, prompting the call up of Miroslav Svoboda to serve as Saros' backup.
Recently retired former Nashville forward Jordin Tootoo was saluted for his contributions to Indigenous hockey.
Toot is from Rankin Inlet, Nunavut, and is the  first Inuk player in the history of the NHL, playing the bulk of his 13 seasons with the Predators.
UP NEXT
Nashville: Home against San Jose on Tuesday.
Edmonton: Host Pittsburgh on Tuesday.