High School Senior in PA Brings Cardboard Cutout of Danny DeVito to prom
CARLISLE, Pa.  — Thought your date to the hillsboro prom was weird?
A Pennsylvania high school student took an unorthodox approach to prom and brought a cardboard cutout of actor Danny DeVito to her highschool prom this year.
Forget asking out someone you like or just going with friends, this high school senior took strange and funny prom dates to the next level. WHTM-TV reports Allison Closs and her famous two-dimensional date joined other Carlisle High School seniors Friday for prom.
Closs purchased the cutout of DeVito online along with a scooter she used to move the figure with. This story may sound familiar, if you've heard of the many people that took their pets to prom.
Sam Steingard is one of those people, but since pets aren't allowed into prom, (except service animals) he only took pre-prom pictures with his cat, Ruby.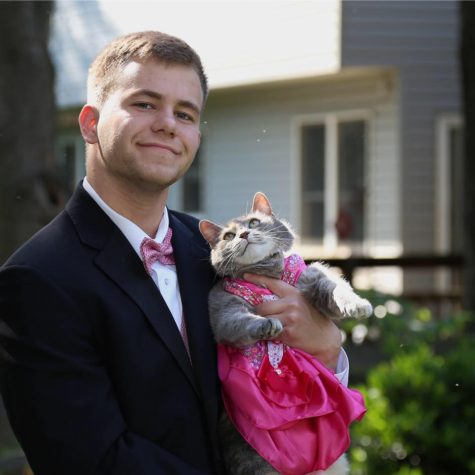 Cali Mabry, the Hillsboro Globe's  Senior reporter on fashion and all things prom related  attended Hillsboro's prom this year and had a few comments on the idea of strange prom dates that are popping up all over the United States. "In some ways, I think it is really creative. In fact, I almost brought my Captain Jack Sparrow cardboard cutout to prom this year!"
When prom proposals have taken over the "couples" groups that attend prom, bring humor by bring a cardboard cutout of small animal is a to acknowledge to all at prom, "yep, I am here by myself, and I am really very much okay with it."
Who else do you think at Hillsboro would attempt to do the same thing besides yourself?
"I wouldn't be surprised if Obang brought a cardboard cutout, to be honest."
Do you think alternative prom dates will become a more popular choice in the future for all high schools?
"I could see it becoming a thing, just like promposals. I think there'll be people in the future who'll get creative with alternative prom dates."
DeVito starred in the classic TV series "Taxi" and films including "Twins" and "Batman Returns." He also starred in the hit comedy "It's Always Sunny in Philadelphia."
DeVito has been very popular among high schoolers and memers for many years, and it is not very surprising to see this sort of thing happen nowadays.