In medical scrubs, MNPS St. Thomas Scholars spent the day in service and learning.
"Being in our scrubs made each of us feel more professional and part of the St. Thomas organization."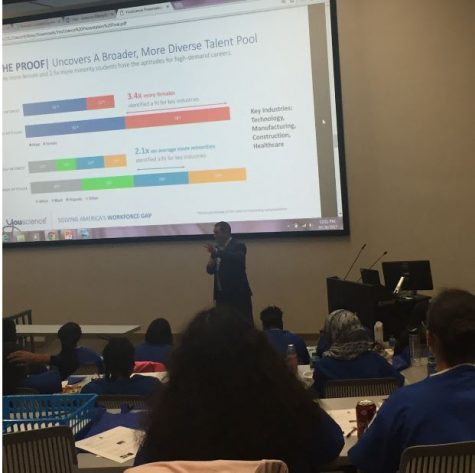 On October 26th, the Saint Thomas Scholars from several schools such as Hillsboro, Glencliff, and Hillwood High Schools had the opportunity to take a field trip to the Saint Thomas Hospital and learn from speakers about the variety of careers that someone in the health field could choose. Healthcare is oneof the largest industries in Nashville and St. Thomas provides ground-breaking opportunities for high school students who are interested in pursuing a future in the healthcare field.
Over 70 students from the three high schools spent the day engaging with healthcare professionals who provided insight into their own personal healthcare experiences. The Nashville Area Chamber of Commerce's workforce initiatives along with the Pencil Foundation, and St. Thomas provided an all day field trip.  All of the Scholars wore their medical scrubs Saint Thomas provides to each school. Being in our scrubs made each of us feel more professional and part of the St. Thomas organization.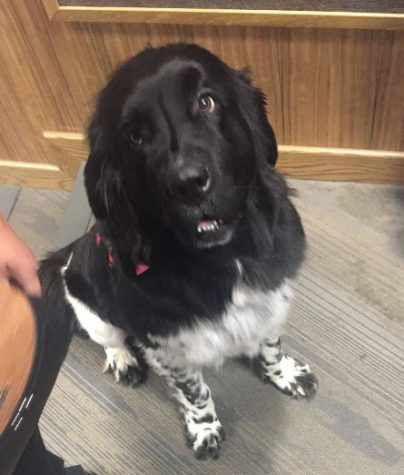 One of the speakers was actually from one of the high schools. Two of the students from McGavock talked about their service dog named Zuzu. Zuzu is a therapy dog who they get to watch at school whenever Zuzus' owner needs help doing so. They are entrusted in taking her for walks, which they like to do to get out of class. Zuzu knows lots of tricks and we learned that a student from their school had a seizure and Zuzu was able to help that student calm down, she knew exactly what to do.
More speakers spoke about their job of helping people who did not have a social security number, mostly women, get the healthcare they need at the lowest cost possible. The speakers were Yashi and Samantha and we came to learn they are also roommates.
They told us they try to call many different doctors to try to find someone who is willing to take the patient to get what they need at an affordable cost, knowing their situation. We were shown a video that showed us one girl's graduation speech as the valedictorian of her school. It amazed me because the speech was only last year in 2016. She talked told her story saying how she had an alcoholic father, she had to take care of her siblings and she that she often encountered discrimination because of who she was so she wanted everyone  to know they can do what they want and overcome all the stereotypes thrown at them.
We, also, got the opportunity to learn from a doctor who also came to speak to all of us and she taught us all about the different diseases you can get and why you should be careful not to get them. Everyone had a lot of questions for her, she even showed us a video that explained how one gets these diseases and what happens when one is exposed to it. This was interesting to everyone because we were shown pictures of what they looked like and I don't think everyone knew you can get all these diseases. The main thing she taught us was to be safe. This speaker made a big impact on the group and all students were more engaged about this topic.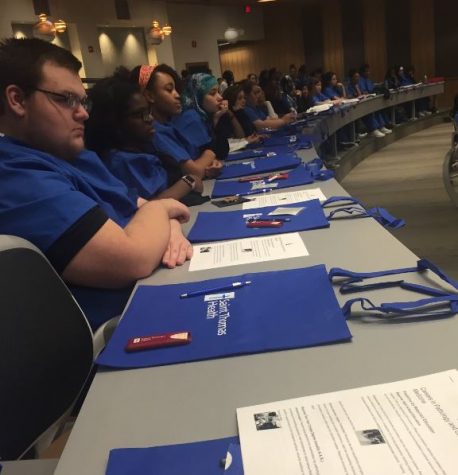 I am grateful to all of the speakers who took the time to talk to us. They did not have to come and talk to us but they did. I learned about many different areas of health from them and I know everyone else did, too.
In conclusion, this was a great opportunity for everyone to see the different types of jobs that are available to people and also learn details about certain jobs.
More about St. Thomas Scholars:
Outcomes and Goals
100 Students from the nine health science academies in MNPS will participate in the programStudents will receive weekly, hands-on certification mentoring from a Saint Thomas Health professional
75% of Students who take the certification exam will earn their Clinical Certified Medical Assistant (CCMA) certificationIndustry certifications act as an endorsement on an individual's knowledge, work ethic and experience.
50% of Graduating Seniors will receive job placement or admission to a post-secondary institution in the health fieldCertified graduates may be hired immediately by Saint Thomas with future scholarship opportunities.
About the Contributor
Casey Tomlin, Reporter
My name is Casey Tomlin and I am a senior at Hillsboro High School in the Global Health and Science Academy.

My interests are reading, listening to...