Rock The Street, Wall Street Empowers Young Women for Future Success
Hang on for a minute...we're trying to find some more stories you might like.

NASHVILLE, Tenn- At the end of Wednesday's bell, 20 female Hillsboro Marketing and International Business Academy students were one opportunity closer to rocking Wall Street. These young women traveled October 25, 2017, to First Tennessee Bank to engage with female financial professionals in a real world setting.
Daisy Casey Community Bank President of Sumner County's First Tennessee Bank, who herself is a former MNPS graduate, hosted these young women along with Maura Cunningham, founder of Rock the Street, Wall Street. The Hillsboro students spent the day participating in a job shadow, intensive small group learning and open discussions.
Ms. Casey shared in the small group discussion how excited she is to fund people's dreams, especially young women's dreams whether it's through a business loan, a college loan or retirement planning. She shared her experiences with her fellow MNPS students an insider's view of what it was like to come up though the ranks in the bank to make it to where she is today.
This group was created to encourage young girls to pursue a career in finance. The group is managed by Dr.Robert Kriebel and the meetings are held in his class every Tuesday.  The tour was lead by various successful women who gave speeches and career advice. The moderator was Maura K. Cunningham, Founder of Rock The Street, Wall Street.
"
Rock The Street, Wall Street is a year-long financial literacy program designed to spark the interest of high school girls into careers of finance."
The mentors, Ms. Cunningham and Ms. Casey in the question and answer sessions gave advice to the young women as to how  interview, network, and what makes a great resume. When asked Maura Cunningham asked Ms. Casey,what the best aspect of her job is, she stated, "I change people's lives!" The mentors shared how they made mistakes in their careers and what we as up and coming professionals can do to prevent making the same mistakes.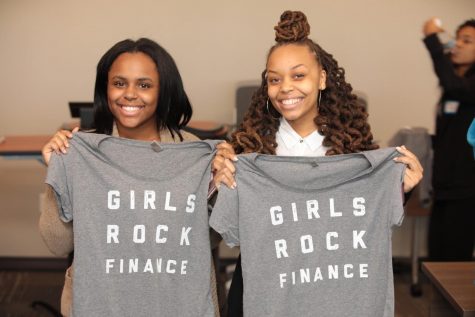 An example of one of the more outstanding pieces of advice we learned is how to manage our social media posts. One of the mentors shared with the group a story about how one of her friends didn't get a job because of Pinterest! She stated that her friends future employer said she had too many pins on Pinterest and it made her seem like she had a lot free time. Social media is a big reason why people lose out on job opportunities.
It was obvious that both mentors are passionate about how much they want raise the bar for the future success for women. Visiting the bank was very empowering and memorable.
Maura Cunningham said "This is what our girls need to see more of. A woman who is making a difference in the her community and the world around her through a career in finance. Daisy could not have been more on point with the girls on how meaningful a profession in the M of STEM is."