With Georgia on his mind, Anzor Tchanturia discusses being an exchange student at Hillsboro IB World School
"
Georgia is still evolving, politically and economically. It is also different geographically. Georgia is a beautiful place below Russia, and near China. It has everything, "
— Anzor Tchanturia
When people in the United State hear that Anzor Tchanturia is from Georgia, the immediate reaction is, "Wow, he doesn't sound Southern!"
Tchanturia is from Georgia, the country and is a FLEX  exchange student from the program Future Leaders Exchange Program which is a leadership development exchange program funded by the United States. He arrived to the United States on August 18th, 2018, and has been with his host family here in Nashville, since then. He will return to Georgia sometime in May.
FLEX is an international program where kids and young adults with a love for their home country go and represent their hometown to the host country, in this case the United States, and share their life experiences with students of the host country.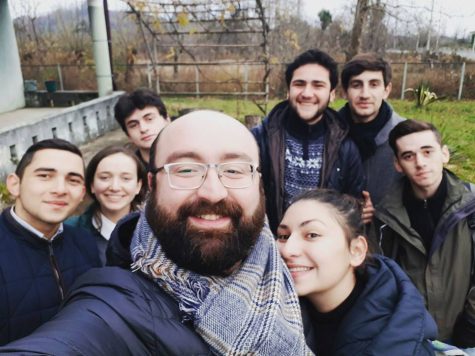 A bonus of this program is that nearly all of his needs are paid for in advance. They pay for everything which is very helpful, but it's still special because not many eighteen year olds  get to do this. The FLEX program is highly competitive and the acceptance rate in the program of 2.14%. He does not get to pick where he goes.
His host family is originally from Russia. Russia border Georgia and many people from Tchanturia speak Russian. His hostess is from Belgium and is a doctor at VanderbiltUniversity Medical Center. Anzar enjoys his host family and stated, It is surprisingly I am not homesick for my own  family .I think it is because I like to  explore and travel." He also had training before he came to Nashville, so changing environments wasn't a big deal for him. It also  helps that he talks to his parents almost every day.
He described the differences between the United States  and Georgia.  The culture shocks major because, "Georgia is still evolving, politically and economically. It is also different geographically. Georgia is a beautiful place below Russia, and near China. It has everything," according to Anzor. "From mountains, to rolling hills, to deserts to seas, Georgia's sights are endless."
An interesting question that came up in the interview was "What does the flag of Georgia represent to him and symbolically." Anzar stated, "There are five crosses, one large and four small, and they represent the religion of the country of Georgia as well as their motto. Their motto is "strength is in unity," which goes hand in hand with the Orthodox christian Georgian branch that they practice."
Anzar is a religious person church but one thing that is disappointing is there isn't anywhere in Nashville or close to here that has the correct Georgian branch of Orthodox Christianity.
In the question and answer session with the students of the Associated Press Journalism program, the topic of international politics was discussed, especially since the investigation regarding Russian interference with election has been an ongoing topic in the media.
 It was very interesting and eye opening hearing what Anzor had to say on the issue. The expansion of Russian into the country of Georgia  has been and continues to be very difficult for the citizens of Georgia because they are a very patriotic country.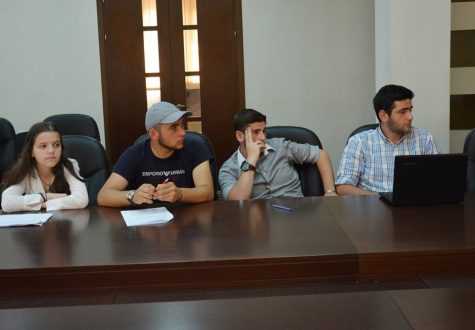 The border is of Russia is literal near where Anzor lives and the fence/wall that Russian soldiers defend is an ongoing presence. Tchanturia explained that it was not like border patrols in the United States because,  "when anyone from Georgia crosses the occupied border on purpose or on accident he or she is subject to detention by the Russian military.  
For example , when farmers are herding their animals near the occupied border, they might accidentally cross somewhere that doesn't have an actual fence/wall. Farmer are then detained by the Russian government and then get tortured." Anzar explained, "If you're lucky enough to get your family member or friend back from the Russian government, they return in a physical condition that is near-death."
Georgians are very patriotic people. This is one of Anzor's favorite parts about his home. There's is a large variety of different ethnicities that call themselves Georgians, but everyone is united by their love for their country. He thinks this is because of the country being small but having a large and very traditional history.
Georgian's hate the Russian government because they have taken areas that are equal to an average size state in the United States. It angers Georgians because the land has always been their land.
Therefore, it is unusual for Georgians to Associate with Russians. This was a point many in the class found disturbing. Though they hate the Russian government and the decisions that they make, they don't hate all individuals Russians who can be a good neighbor.
"
"You either have a social life or do well at school, there's no in between.""
— Anzor Tchanturia, FLEX exchange student
The biggest difference between Georgia and the United States is the education system. The structure of the United States education system allows for more freedom to study topics in-depth and there is more freedom to guide one's own education compared to the very structured system of Georgia. "I like that I can choose what levels of education I want to continue with after middle school.. Anzar is currently a AIBC Marketing student at Hillsboro which he is highly  interested in. He also noticed that the infrastructure is "amazing."
In Georgia,  he has seven classes a day and stays up until 2:00 am almost every night working on homework and schoolwork. This leads to him having a seemingly dull social life simply because he has an enormous amount of homework work. Anzor said that, "You either have a social life or do well at school, there's no in between."
One fun fact about Anzor is that he speaks three languages, including English, German, and Georgian. It is so interesting to learn about an exchange student's homeland. Some students, he explained, didn't know the country of Georgia existed. He shared with us that his perspective on Americans is that we're friendly people and that we are kind, which I found interesting.  His eye opening perspective was very enlightening and I am grateful I had the opportunity to meet him.
About the Contributor
Abbey Cutrer, Journalist

Abbey Cutrer is a sophomore at Hillsboro High school in the International Baccalaureate Diploma Program which is a comprehensive course of study.

It...