It's official! Donald Fitzgerald and Joseph Honeysucker sign Letters of Intent with Division I colleges
Donald Fitzgerald and Joseph Honeysucker make their official university commitments to play football at the next level.
Hillsboro IB World High School is pleased to announce that Donald Fitzgerald (ATH) and Joseph Honeysucker (DE) will participate in an early signing event on December 19, 2018 at 11:30 in the Hillsboro Library. 
Hillsboro will celebrate both Joseph Honeysucker and Donald Fitzgerald for their academic and athletic successes this year as they finalize their commitments to the universities of their choice.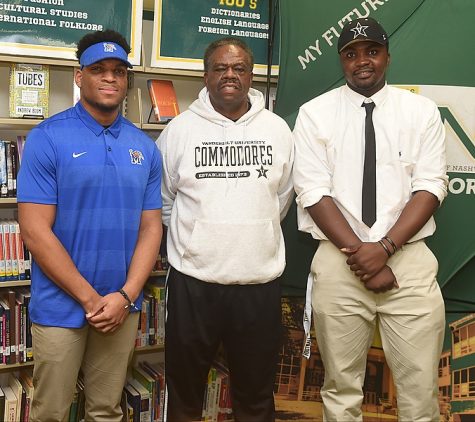 Donald Fitzgerald  is a St. Thomas Scholar and a senior in the Academy of Global Health and Science.
Trading basketball for football this year, Fitzgerald's impact as a first year football player is undeniable. He will continue making an impact at Vanderbilt University under Head Coach Derek Mason. Vanderbilt's class features incoming student-athletes from nine different states that fill 11 different positions across the roster
Donald earned 25 solo tackles and 41 assists for a total of 66 tackles for the 2018 season. He forced 6 turnovers and had 6 sacks for a loss. Fitzgerald narrowed his choices down to Duke, UT and Vandy deciding to become a Commodore less than 2 weeks ago.
Fitzgerald is the AGHS representative to the Meharry Symposium for Scholars. He is a peer tutor and assists with special needs students. He is also is a volunteer ACT Prep for the last three years with In Full Motion. The Department Chair of AGHS, Lonny Nelson, describes Donald as an amazing young man whose optimism is infectious. He is a joy to be around."

Other Awards
All-City 1st team for 2018
All-Region 6 5A team for 2018.
Donald has made a verbal commitment to Vanderbilt University and will finalize his decision on Wednesday.
READ MORE HERE ABOUT VANDERBILT UNIVERSITY'S NSD CLASS
---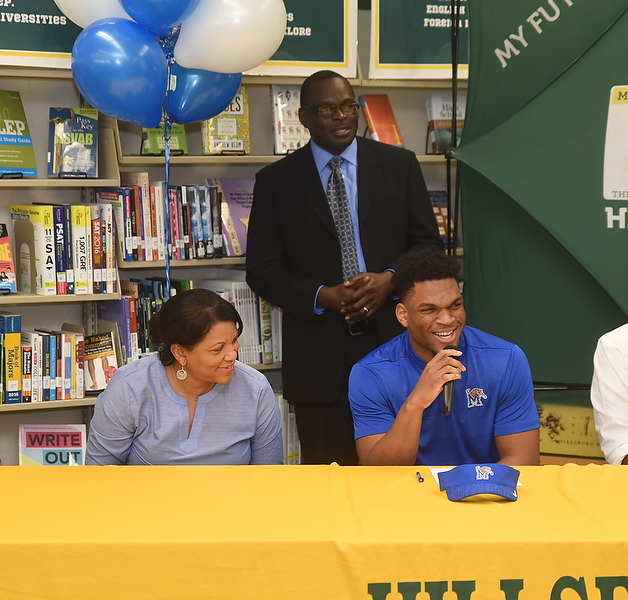 Joseph Honeysucker, the 75th  Hume Award winner selected for the 2018 season. The Hume Award is given to only one football scholar each year.
Joseph is a senior in the Academy of Business Communications. Honeysucker  earned 112 total tackles (48 solo/64 assist) for the 2018 season.  He averaged 11 tackles a game for an average of 90 yards in QB hurries. He end his high school career with 37 sacks.
Other Awards:
All-City 1st team, '17, '18 HM '16
All-Region 1st team '17, '18
East-West 1st team, '18
Middle Tennessee Chapter of the National Football Federation and College Hall of Fame  and nominee Admiral William P. Lawrence Award.
Joseph committed earlier in the year to  Memphis University. He invites you to witness his decision to become a Memphis Tiger.
Head Coach Maurice Fitzgerald describes Honeysucker as a "generational player who comes along once in a generation. Every so often God will allow you to  coach a student athlete that you will term a generational player. Joe Honeysucker  is in that class. He is God fearing and humble young man. Joe cares so much about his teammates and the world around him. He is at peace with himself and has a clear understanding of who he is and his purpose in life."
Joseph is looking forward to playing on Saturday's in Memphis.
READ MORE ABOUT THE 2018 NATIONAL SIGNING DAY CLASS  – UNIVERSITY OF MEMPHIS