Pekka Rinne earns his 53rd Career Shut Out
Nashville Predators beat Boston Bruins, 1-0
NASHVILLE, Tenn. (AP) —Pekka Rinne ticked off one good moment after another Saturday. 17,000 + super fans sing Happy Birthday to you on your 36th birthday – ✔
Signed 10 million dollar, two year contract extension ✔
Shut out against the Boston Bruins stopping 21 shots  ✔
Shut out No. 53 and 316th victory of his standout career ✔
Ring improved to 3-1-1 on his birthday in his career ✔
"
He's really happy. We're really happy. It's a good day for us."
— Peter Laviolette, Head Coach of the Nashville Predators
Happy does not begin to describe Rinne for the huge win. "It's been awesome, awesome day. Huge win," Rinne said. "Just very happy. So proud that I can stay with this organization that gave me a chance a long time ago, and you know still have that opportunity to chase my dream. So very fortunate."
CLICK HERE: To view the highlights from the Predators v Bruins game.
Seven years after he signed a long-term deal on the day he turned 29, Predators goaltender Pekka Rinne has put pen to paper on his birthday once more, inking a two-year, $10 million deal to remain in Nashville through the 2020-21 season.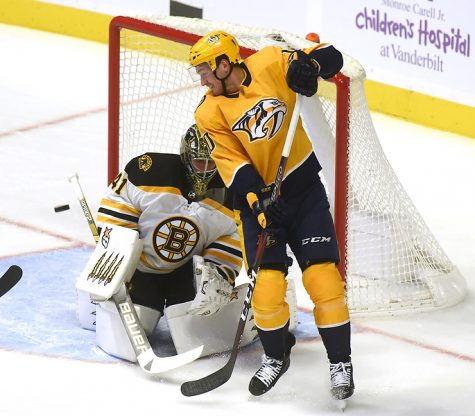 Roman Josi scored for Nashville, which won its third straight to stay atop the league standings. Nashville's captain called Rinne's deal amazing.
Rinne continues to a significant leader for the Predators in addition to Captain Roman Josi. "He's such a big part of this locker room, and he's our leader," Josi said. "I mean he's been here for so long he's such a great guy and obviously best goaltender in the league. To keep a guy like him around, it's awesome for us."
Head Coach, Peter Laviolette, concurs, "He has been and continues to be the backbone of this organization and this team, probably the guy who's had the biggest impact on this organization." "He's really happy. We're really happy. It's a good day for us."
Josi posted his 300th career point. He got the puck near the blue line and then skated up the right side before cutting back across the ice, beating Halak with a wrister at 14:49 of the first period.
What the entire team is unhappy with is its power play performance. Nashville's power play was even worse Saturday getting shut out on five power plays which include,  a 10 minute double-minor on Marchand at the end of the first period for high-sticking and unsportsmanlike conduct."Clearly, you can see if our power play and our top line don't score, we have a tough time," Cassidy said. "Our goaltender kept us in the game."
UP NEXT
The Predators start a five-game road swing at Colorado on Wednesday night. Boston will host Dallas on Monday night to start a four-game homestead.