The 75th Hume Award winner will be announced Wednesday, Dec. 5
December 5th the 2018 Hume Award Winner will be announced at its annual banquet. This year's finalist are: Joseph Honeysucker, Hale Page, Sid Souksangouane, and Devon Starling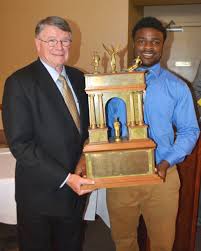 On Wednesday, December 5, 2018, Tennessee's longest running scholar-athlete award will be presented to the 76th winner of the Hume Award. The award is given to those young men who exhibit excellence in sportsmanship, scholarship, and football ability.
Being nominated as a finalist of the Hume Award is an honor like no other high school award. Each Metro Nashville Public School that fields a football team send in a nominee that has been chosen by criteria that matches the mission of the civic organizations who now sponsor the award.
When one becomes one of the five finalist of the Hume Award, these young men will join a rare group of of former Hume nominees who understand that it is an honor to make the cut of five.
One of this year's nominees be it Joseph Honeysucker, Hale Page, Sid Souksangouane, or Devon Starling will join the previous 75 and will become 76th Hume scholar-athlete to have his name inscribed on the historic trophy. The Hume Trophy is held on display at the school of the winner and is displayed for until the next award ceremony.
The Class of 2018 finalists and semi-finalists have been announced:
 2018 – 2019 NOMINEES
WILLIAM E. HUME AWARD
School               Nominee               Coach                Executive Principal
---
Antioch High School:      Nestor Noe Corea,     Michael Head,            Dr. Clarissa Zellars 
 Cane Ridge High School:   Devon Starling,***   Eddie Woods,   Dr. Michel Sanchez 
 East Nashville High School:      Rondarius Dejuan Gregory,   Brian Waite,    Dr. James Jenkins  
Glencliff High School:      Ricardo Jose Ruiz Machado,    Monroe Thigpen,   Clint Wilson 
Hillsboro High School:    Joseph Honeysucker***   Maurice Fitzgerald,   Dr. Shuler Pelham 
Hillwood/Hume-Fogg  High Schools:     Hale Page***   Kurt Page,   Stephen Sheaffer 
Hunters Lane High School:     Sid Souksangouane***   Thomas McPhail,   Dr. Susan Kessler
Maplewood High School:     Clinton B. Dowty III,   Arsenate Broome,   Dr. Kelly Jones-Mason 
McGavock High School:     Eduardo Villalobos,  Jay Gore,   Robbin Wall  
Overton High School:     Aran Mohamad-Ali,   Steve Williams,   Dr. Jill Pittman 
Pearl-Cohn/M. L. King Jr High Schools .:     Jayden Harrison***   Tony Brunetti,   Dr. Miriam Harrington 
Stratford High School:      Calvin Farmer Jr.,   Thomas Porter,   Michael Steele  
Whites Creek High School:      Franklin Russell Griggs,   Clifton Davis,   Dr. James Bailey  
***FINALISTS 
---
Hume Award History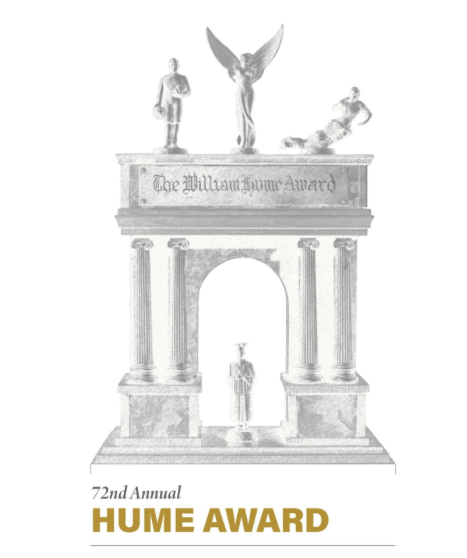 In 1944, while he was watching a football game between two team s at West High School, Mr. William Hume who at the time, was a prominent Nashville attorney and civic leader, sparked a conversation with the Superintendent of Nashville City Schools Mr. W.A. Bass.
Mr. Hume envisioned an award for the talented young men who play football for Nashville City Schools. This idea intrigued Mr. Bass and thus became the Hume Award. When the Nashville City Schools and Davidson County School systems merged into the Metropolitan Nashville Public Schools System, those schools were included in the eligibility for the award.
Recipients of this award receive a plaque and a trophy which rotates to each winner's school the year they accept the award. When Mr. Hume passed away, his wife Mrs. Hume loyally carried out his legacy and set up a trust fund in his name that has continuously provided the award to the winners.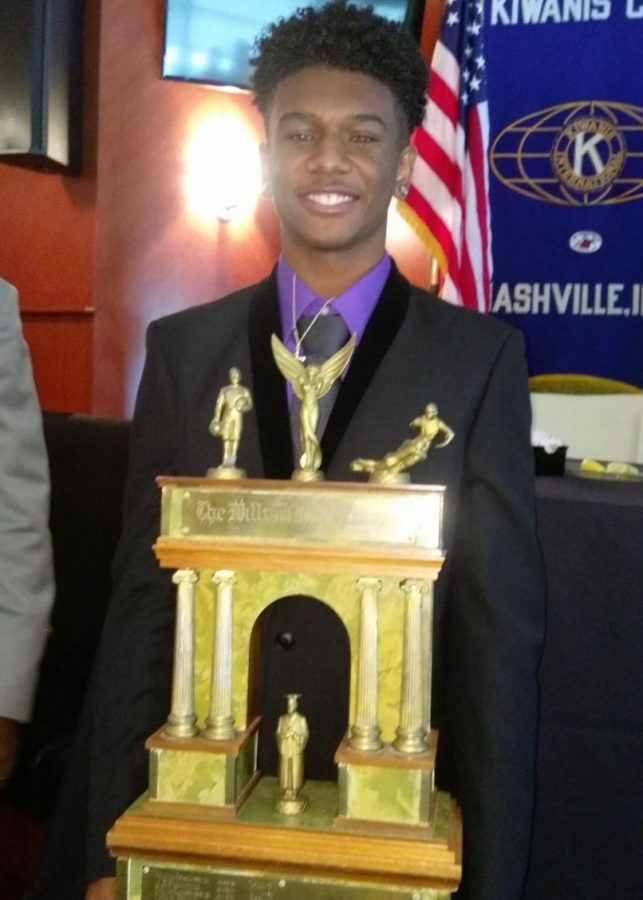 Each Metro school submits a nominee that is chosen by the executive principal and head football coach based on the player's scholarship, talent and overall value to their team. Then, a committee made up of representatives of the host civic group, the president of Secondary Schools Principals Association, the president of the Middle Tennessee Football Officials Association, and the sports writers that cover high school football chose the five finalists and the overall winner from the group of selected nominees.
Since 1944, there have been 75 winners of this award and out of those, Overton High school has had fourteen winners, the most of any current high school. (Jack Chandler, 1974-75; Terry Corn, '77-'78; Chris Kennedy, '78-'79; Gary Kimball, '79-'80; Mike Beckham, '81-'82; Keith Victory, '83-'84; Bobby J. Griggs Jr., '92-'93; Jason Hamilton, '94-'95; Nate Daniel, '97-'98; Jacob Coleman, 2002-2003; Bryan John Hartzell, '08-'09; Andrew C. Montgomery, '10-'11; Jeffery Brandon Orr, '12-'13; and Kevin D. Scott 13-14 .)
Previous Hillsboro Burros who are a member of this selective group include: David Lee Parker 1991-92; Timothy Gray, 2001-02;
Hume Award Recipients
| Name of Student | School Year | School Name |
| --- | --- | --- |
| Eddie Lawrence | 1944-45 | West |
| J. B. Proctor | 1945-46 | Cohn |
| Billy Lawrence | 1946-47 | West |
| Dale Beck | 1947-48 | Howard |
| Dale Beck | 1948-49 | Howard |
| Roy Herald | 1949-50 | Howard |
| Odell Binkley | 1950-51 | North |
| Don Rucker | 1951-52 | Cohn |
| Don Rucker | 1952-53 | Cohn |
| Ralph M. Greenbaum | 1953-54 | West |
| Billy Smith | 1954-55 | East |
| Thurman Leo Smith | 1955-56 | Cohn |
| Thomas E. Wells | 1956-57 | Cohn |
| Charles Rice | 1957-58 | West |
| Raymond Mitchell | 1958-59 | Howard |
| Billy Whittaker | 1959-60 | North |
| Kenneth Goad | 1960-61 | East |
| Danny Hale | 1961-62 | North |
| Sam O'Neal | 1962-63 | East |
| Richard McAbee | 1963-64 | Howard |
| Eddie Niebruegge | 1964-65 | Goodlettsville |
| Alex Beavers | 1965-66 | Madison |
| Stuart Byrom | 1966-67 | Litton |
| Jackie Carver | 1967-68 | East |
| Homer Stinson | 1968-69 | Cohn |
| David Campbell | 1969-70 | Maplewood |
| Mike Winchester | 1970-71 | Madison |
| Richard Clippard | 1971-72 | Hillwood |
| Brice Shelton | 1972-73 | Antioch |
| James Threalkill | 1973-74 | East |
| Jack Chandler | 1974-75 | Overton |
| Tony Glover | 1975-76 | Antioch |
| E. J. Junior | 1976-77 | Maplewood |
| Terry Corn | 1977-78 | Overton |
| Chris Kennedy | 1978-79 | Overton |
| Gary Kimball | 1979-80 | Overton |
| Jeff Spain | 1980-81 | Glencliff |
| Mike Beckham | 1981-82 | Overton |
| Kevin Kalen | 1982-83 | McGavock |
| Keith Victory | 1983-84 | Overton |
| Ronald Robinson | 1984-85 | Stratford |
| Rusty Cole | 1985-86 | Stratford |
| Michael Craig Dunn | 1986-87 | Antioch |
| Bryan Link | 1987-88 | Hillwood |
| Tracy A. Majors | 1987-88 | Glencliff |
| Bryan Link | 1988-89 | Hillwood |
| Rodney Burford | 1989-90 | Hunters Lane |
| Michael Jason Pettus | 1990-91 | Hillwood |
| David Lee Parker | 1991-92 | Hillsboro |
| Bobby J. Griggs, Jr. | 1992-93 | Overton |
| Rayburn Hall | 1993-94 | Stratford |
| Reginald Grimes | 1994-95 | Hunters Lane |
| Jason Hamilton | 1994-95 | Overton |
| Jahi J. Henley | 1995-96 | Hunters Lane |
| Adam L. Kibler | 1995-96 | McGavock |
| Maurice Fitzgerald | 1996-97 | Pearl-Cohn |
| Nate Daniel | 1997-98 | Overton |
| Leonard Mays | 1998-99 | Maplewood |
| C. J. Johnson | 1999-00 | Glencliff |
| Brandon Lee Curry | 2000-01 | Hunters Lane |
| Timothy Gray | 2001-02 | Hillsboro |
| Jacob Coleman | 2002-03 | Overton |
| Jonathan Hathaway | 2003-04 | Pearl-Cohn |
| Brenard K. Wilson II | 2004-05 | Hunters Lane |
| Jared C. Clodfelter | 2005-06 | Hillwood |
| Jamie D. Graham | 2006-07 | Whites Creek |
| Marquez D. Cantrell | 2007-08 | Hunters Lane |
| Bryan John Hartzell | 2008-09 | Overton |
| James R. Stone | 2009-10 | Maplewood |
| Andrew C. Montgomery | 2010-11 | Overton |
| Dustin M. Binkley | 2011-12 | Maplewood |
| Jeffrey Brandon Orr | 2012-13 | Overton |
| Kevin D. Scott | 2013-14 | Overton |
| Ke'shawn L. Vaughn | 2014-15 | Pearl-Cohn |
| Devarius Quantez Cortner | 2015-16 | East Nashville |