Negro Swan: Blood Orange's latest tour de force
Negro Swan: Blood Orange's latest tour de force
Artwork by Deshaun Ellis
This article is dedicated to Mac Miller.
Devonte Hynes has been on a bit of a run recently. Writing and producing hits for big artists such as Carly Rae Jepsen, Solange, A$AP Rocky, and Mac Miller.
With his own music, it's no different. Recent releases such as 2016's Freetown Sound and now in 2018 with the Black History EP and Negro Swan have been reviewed as exceptional.
Personally, I was never a huge fan of Blood Orange and not because I thought his music was bad, but because I never took time to listen to his catalogue.
Photo: Micaiah Carter/for Vulture
But in 2016, when Freetown Sound dropped, I finally got my chance to give the catalogue serious consideration.
I had never heard anything like it.
The work is big mixture of different genres and sounds which do not come off sounding like a jumbled-up mess.
Freetown Sound conjures up 30's jazz, 80's breakbeats, and current dance music sounds. Within this mix rhythms inspired by the Caribbean and Jamaican islands.
Negro Swan is music more familiar. It is as if Hynes honed in on a specific sound that he was  willing to a essence of refinement.
This recording draws from a jazz ensemble, featuring smooth guitar chords, and multi-layered vocals. The instruments flow and meld so well with each other that it's hard to tell that most of the beats were made with whatever Hynes had in the studios he rented.
The tracks often blend into each other with smooth transitions, so smooth that if you aren't fully paying attention you might think it's the same song playing on and on.
The best examples of this would probably be Saint into Take Your Time or Family into Charcoal Baby. Though frequent,  it isn't annoying.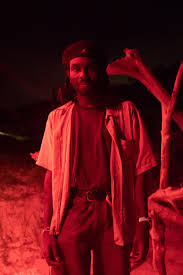 The instrumentation on this album is beautiful. The synth chords sound like clouds, the horns adds this vintage jazz feeling, and the drums give the songs the extra flair that makes them stay in your head all day.
The perfect example of how all of them perfectly come together is Jewelry.
I've listened to this album about 19 times, from beginning to end, and Jewelry sticks with me the most. The drums are sporadic and the guitar chords match them so perfectly.
The refrain at the end is the best though. "[explicit] I'm feeling myself, [explicit] I'm still in my zone."
Yelling this is the best.
To mold this all together Hynes uses lyrics that feel significantly personal. The lyrics  eferenceabout childhood traumas and the feeling of being isolated. The lyrics take you on a journey of through Hynes' life.
From being in grade school, getting jumped every week and having to change his appearance to avoid getting beatings, to his teenage/early 20's trying to find how to be comfortable in his own skin and feeling like a token.
On Charcoal Baby, Hynes details how hard it is trying not to be the "odd one out". However, it was inevitable because he was often only black person in many situations.
Issues like these are often overlooked in the black community. Not feeling accepted by your peers so you find other groups that you connect with, but you may be too much for them. So you're left feeling alone wherever you are. Hynes speaks clearly to these issues throughout the entire album. Eventually, Hynes pulls the listener into the present where he feels he can be comfortable in his own skin and be himself. He knows he does not have to change his ways to make others comfortable.
"
Issues like these are often overlooked in the black community. Not feeling accepted by your peers so you find other groups that you connect with, but you may be too much for them. "
— D. Ellis
This album is important for black youth and youth in general. When we have so many ways to feel alone and isolated, Hynes reassures us that someone else has gone through it and made it out.
If you haven't already, please check this album out. There's literally no bad songs on here and it's 17 tracks! My personal favorite is Charcoal Baby.