Three releases to add to your playlist: AstroWorld, Stay Dangerous and Swimming
The Hillsboro Globe may contain links to external websites that are provided to sites that contain Explicit Content Warnings. The Globe is not affiliated with these sites, but rather the links are provided to those readers who choose to read more about a particular topic.
Written By: Deshaun Ellis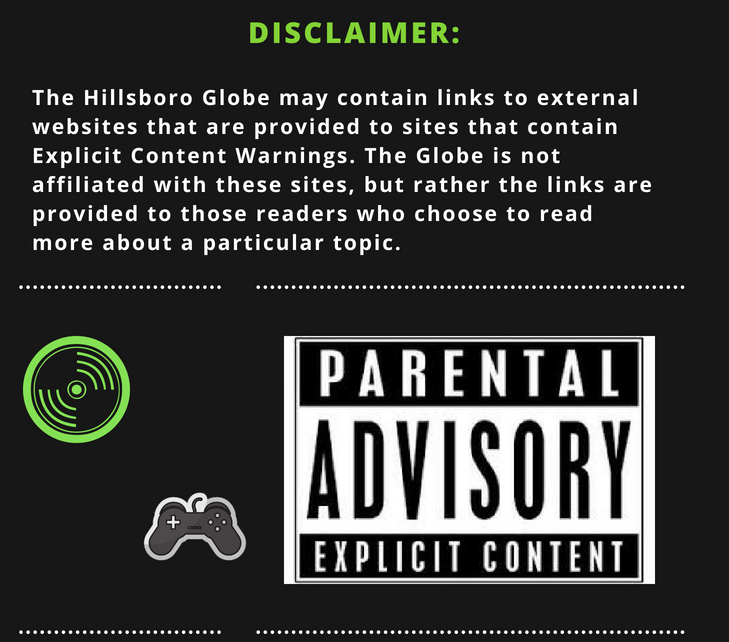 August 3, 2018 should've been a day of rejoice for rap fans. Three amazing albums from three good rappers should have been released. Travis Scott, YG and Mac Miller all announced that their albums were coming out on the same day, August 3rd.
Fans all over the world were anxious to hear the new sounds as all three artists' album rollouts were pretty good.
In the past year, Travis Scott played snippets of the new album at concerts and they sounded sounded great.
Miller released Circles, Small Worlds, Buttons, Self Care and What's The Use?, and YG released Big Bank. All of these were received well so the albums had to be good right?
Nope. Like not even close.
The three albums were ASTROWORLD by Scott, Swimming by Miller, and STAY DANGEROUS by YG.
Let's start with ASTROWORLD because that's the one I listened to first. I was very excited for this one because Travis' sound is so all over the place and I just knew it was going to sound crazy and different.
When I started listening to it though every song started to sound the same to me and it got harder to figure out where one song ended and another began.
Especially after the second half of the album (after NC-17) the songs started to feel like fillers added at the last minute. They started to follow the same formula and got bland.
I have listened to this album all the way through 5 times now and it doesn't get better the more times I listen to it. I was so disappointed in Travis because it felt like he was just adding songs to get more money from streaming.
There's no reason why this album should be 17 tracks long. It really could've ended with NC-17 and this review would've looked totally different.
Overall I was just severely underwhelmed by Travis on this one because he has the potential to be consistent all the way through, but I don't know what happened on this one.
I remember I was mad after listening to it because I was listening to Michael Jackson before and I turned it off to listen to this. Afterwards, it was like 12:30 in the morning and I decided to fit Swimming in before I passed out. Which was immediately better.
SWIMMING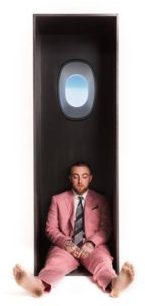 This album was definitely hyped up because of what happened to Miller months before it's release.
Mac and his longtime girlfriend. Ariana Grande,  had recently split and we all thought it would have a significant impact on his music.
And we all were totally right.
Mac released three singles leading up to this album Buttons, Circles, and Small Worlds. These singles were a slower kind of song, but they all sounded great.
So when Swimming opened with a slower song that addressed the theme of having regrets,  it fit perfectly. This project is so consistent to me.
Mac's flows on the rapping parts are so smooth that it just molds into the beat. The bridge on What's the Use? is so godly with the Thundercat vocals over that synth!
The production on this project is another plus. Most of the production was handled by Miller under his Larry Fisherman pseudonym.
There are also credits for Pharrell, J.Cole, Dev Hynes, Dâm-Funk, and DJ Dahi.
I thought Swimming was Miller's best project to date, but Anthony Fantano of The Needle Drop thought differently. "Swimming is just another attempt of Miller trying to speed his way into the syrup-y alternative lane, but in the end is as fun as rush hour traffic." Noting that the beats were boring and Miller's vocals were weak and unappealing.
So this album is light years better than Astroworld.
STAY DANGEROUS
I consider myself a fairly intense consumer of music, though I have never been a big fan of YG.
However, I've always taken the time to give respect to his projects.
In my opinion, he is one of the few rappers who can rap about their dangerous lifestyles without actively snitching on themselves in the process.
Plus the beats he picks fit him so well it never feels like he's trend chasing or using certain beats for more attention.
I really liked Still Brazy, so I was a bit excited for new release. This album starts off really good, but then we get to HANDGUN…this song is terrible.
It's totally not YG's fault. I have no clue why people keep getting A$AP Rocky for features in 2018.
Rocky has fallen off so hard, it's crazy. He single handedly ruins this song.
All of the beats on this project make me want to G-Walk down the street. Or like blast my subwoofers out going 15 down a residential street.
Other than the cut, Handgun and the Nicki Minaj feature, this album is so solid. The only negative is his choice of who he features. One has to wonder if YG chose these or if the label forced it on him. Still, it seems he can do no wrong.
This album is feature heavy. For example: 2 Chainz, Jay 305, Ty Dolla $ign (The GOAT Vocalist), YoungBoy & Mozzy are the stronger features, but listeners could've done without Big Sean, Quavo, Rocky & Nicki Minaj.
All throughout the album, YG raps about consistent themes: his life, money, women, and being a blood. Rachel Aroesti of The Guardian says, "…generally, the lyrics never stray far from the basic rap triumvirate of sex, money and violence, and YG doesn't cover his subject matter with a huge amount of wit or creativity."
If the musicality is not enough to carry the cut for your, the lyrics of YG's latest might leaving you wanting more. It's a fair analysis to remind listeners YG has never promoted himself as a lyricist.
Dismissing lyricism is an thing to overlook when the beats are strong. However, when the beats don't help the song move along the pacing of the song becomes a problem.
Summing up the latest three and most hyped-up rap albums dropped only one has left a lasting impression.