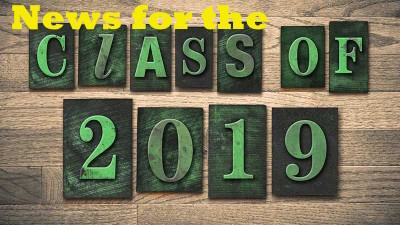 Hillsboro Seniors- check out important news for the Class of 2019
CLASS OF 2019
Senior News
Tomorrow begins your senior year!!  Senior year is a busy one with lots of meetings, deadlines, and fun events and we hope this weekly listserv will help you stay organized and keep your calendar up to date.

Here are some important dates coming up in the next couple of weeks:SENIOR MEETING 8/20
We will have our first Senior Meeting on Monday, August 20 at 8:30AM for students and a repeat at 6:00PM for parents. Parents are welcome to attend the morning meeting if preferred.  This is a VERY IMPORTANT meeting as we will review all the important senior information that you will need to know for the year such as  calendar, senior costs, post-secondary planning information and much more. Please plan to attend.

SENIOR T-SHIRTS SUBMISSIONS DUE 8/30
Every year, we have a competition for our Burro Seniors to design their senior t-shirt. It is now time to start creating! Design submissions are due Friday, August 30, to the main office. We will vote on the designs on September 7, and we will distribute the senior t-shirts on October 31. Every senior will get a senior t-shirt at no additional charge. Here are some guidelines:
Designs must include the graduation year "2019"
Design must be your own original, unpublished work and cannot include any 3rd-party copyrighted material (no corporate logos) nor any violent imagery or profanity
You can use one or two colors (HHS colors are GREEN and GOLD)
The main design can be on the back or front, plus a smaller design where a pocket would be
SENIOR PICTURES DUE BY 9/20
Many of you have already had your yearbook picture taken this summer at Prestige Portraits. For those of you who do not yet have an appointment, we encourage you to make one as soon as possible. You can call to make an appointment at 615-628-8600. Reminder: there is no charge for a "Yearbook Only Pose," but you must make that request. Prestige will also be at school on September 20 to take yearbook poses of any student who could not get an appointment this summer. The September 20 appointments will fill up quickly, so please try to make your appointment to have your photo taken this fall before Sept. 20th. The September 20 date will be the last chance to take your yearbook photo.
SENIOR FEE – FIRST PAYMENT DUE 12/14
We are happy to announce that we are able to keep the Senior Fee at $50 again this year (down from $80 in previous years)! This fee includes graduation expenses (Allen Arena rental, diplomas, programs, tickets, etc.) and the senior t-shirt. You may pay in full by December 14 or by partial payment of $25, with the second payment due March 8, 2019. You can pay by exact cash, cashier's check, money order, or personal check (payable to Hillsboro High School). You can bring your payment to Ms. Keisha Caphart in the USCCU Academy of International Business and Communications office, or pay online at ops.osmsinc.com/nashville. If you pay online, be sure to print a copy of your receipt and show it to Ms. Caphart so she may list you as "paid in full."
STAY INFORMED
As we mentioned above, our main form of communication will be this listserv, so please be sure you are signed up on Hillsboro's listserv and that you have clicked "Class of 2019" in your preferences. Other important forms of communication that you will want to check regularly are: