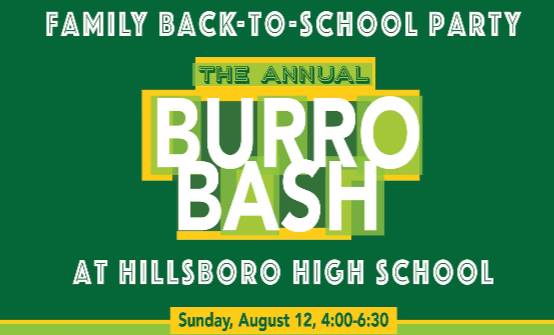 Come on out to a great community event – The Burro Bash!
Plan to attend the Burro Bash on Sunday, August 12, 4:00-6:30 PM.
This is Hillsboro High School's  annual back-to-school celebration for all families!
The Slider House and the PTSO are providing sliders and ice cold water, and families are asked to bring sides and desserts to share.
The event will take place in the front of the building.
This is always a happy reunion for the Burro family after the long summer break, and teachers, administration and parents are excited greet the Green Hills community to help kick off another amazing year at Hillsboro High!
Performances Sunday afternoon will include the awesome Burro Marching Band, Cheerleaders, Hillsboro Singers, Hillsboro Players, and a special performance by the Dad Band.
Lots of clubs will have information tables so that students can find a new activity to engage in this year. The Burro Bash is also a chance for HHS students to find out about extracurricular activities and to meet the sponsors of these clubs and sports.
Others will give us a taste of what's to come this year in terms of keeping school spirit at a fever pitch!
Also, we will have FREE HAIRCUTS again from some of Nashville's best stylists!
The event always showcases the wonderful musical talents of our students, who are invited to play a song on the Student Stage with the beloved Dad Band.
Students interested in performing at the Burro Bash should email Janelle Ganske at [email protected].