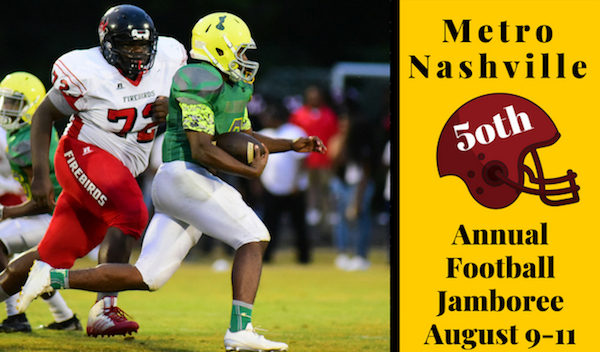 Rights Reserved-Hillsboro Globe; Associated Press Susan Strasinger
Metro Nashville Public Schools Celebrate 50th Annual Football Jamboree
Metro Schools kicks of the 2018-2019 Sports Season with a Meet and Greet Media Day and three nights of football August 9-11
Football practice has started across the state leading off to another great year of gridiron action.
To kick off the 2018-2019 Metro Nashville Public Schools sports season, MNPS will be hosting a Meet & Greet Media Day at the Martin Professional Development Center on August 1, 2018. The
Martin Professional Development Center is located at 2400 Fairfax Avenue. The event, which begins at 6:00 p.m., will feature media opportunities to speak with football coaches and key players of the 2018 Football Season. 
In addition, MNPS Athletics has invited former coaches and alumni to help celebrate one of district's longest running MNPS sponsored events – the Metro Football Jamboree. 
50th Metro Jamboree 
The Metro Nashville Schools will get things started with the 50th Metro Nashville High School Football Jamboree beginning August 9th. Here is this year's schedule:
Thursday, August 9, 2018

at Antioch High School, 

7:00 PM

– Stratford vs Cane Ridge, Antioch vs Hillwood

Friday, August 10, 2018

at Glencliff High School,

6:00 PM

– Mt. Juliet Christian vs Hunters Lane, East vs Overton, Glencliff vs Whites Creek

Saturday, August 11, 2018

at Pearl-Cohn,

7:00 PM

– Hillsboro vs Maplewood, Pearl-Cohn vs McGavock
Rules for playing:
a) The first quarter of each contest will begin on the 30-yard line.
b) A coin will be tossed preceding the first quarter of each contest at each of the two sites to determine the offensive and defensive teams.  There will no kickoffs.  However, all other kicking situations will be live.
c) After a safety, the ball will be placed on the 50-yard line.
d) Score will be kept as a regular game – Visitors vs. Home.  After each half, the scoreboard will be cleared.
e) Each team will be allowed two timeouts except in case of injury.
f) All other rules/regulations are to be enforced.
g) If the contest ends in a tie, there will be no overtime.
Tickets will be $6.00.
---
Please contact for more information:
---